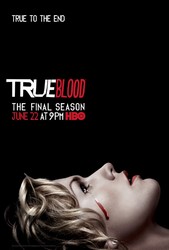 TV Info
---
Episode Premiere
June 26, 2011

Distributor
HBO

Genre
Drama

Show Period
2008 - 2014

Production Company
Your Face Goes Here Entertainment


Cast and Crew
---
Director
Michael Lehmann
Screenwriter
Alexander Woo
Main Cast
Additional Cast
Synopsis
---
As we open this new season, we learn that the mystery brunette in Sookie's fantasy land is her -- no joke -- Fairy Godmother. Barry the Bellboy also is in fantasy land, has his own fairy godmother too. Name's Lloyd; great accessories. Anyway, Barry and Sookie are in a beautiful garden. They are invited by the fairies to dine on light-up fruit, which Barry chomps with abandon. Sookie hesitates, which, of course, can only mean that the light-up fruit is bad news. Just then Sookie spots her grand-dad, who is enjoying a disco fruit of his own.
Pee-Paw is under the impression that only a few days have gone by since he last saw Sookie, so Sookie needs to set him straight and catch him up on everyone who has died.
Sookie responds by assuring Mab that she has lost her taste for vampires; she assures everyone that her peccadillos are no threat to Fairy Land or its disco fruit.
Mab then tries to force Sookie to eat a piece of fruit. Sookie fights back, and the facade of fair land fades away. Oh no! Everyone is ugly! They're not partying in a classy, Venetian-looking garden but, apparently, Joshua Tree National Park -- without the color! A fight ensues between Sookie and the ugly fey before Sookie and her grandfather can try to make a break for it.
One of the ugly fairies says he can help Sookie. He says he is Mab's brother, and that Mab's plan really is to forever seal off the doorway between Glow Fruit Country and Earth. Given Mab's personality, this seems like a good plan for all involved, but apparently not.
Sookie and Pee-Paw return to Bon Temps. The grandfather has a pocket watch with him. He insists that Sookie give it to Jason. But that's about all he can request, because Pee-Paw has eaten the light-up fruit, so he cannot remain on the mortal plane. He dies, conveniently enough, right next to Gran's grave.
When Sookie arrives back at her house, or what she thinks is her house, she sees that everything is being packed by movers and retouched by folksy looking handymen. She doesn't get it, but clearly time is a bit wonky in disco fruit land, because, here in Bon Temps, Sookie has been gone for more than a year. Jason arrives home and hugs her like the dickens.
Now Andy Bellefleur arrives, ready to file a kidnapping complaint against whatever varmint what took Sookie. Apparently, Bill has been living under a cloud of suspicion connected with Sookie's disappearance. Sookie insists that no one is to blame, and Bill steps in to tell a white lie: Sookie was gone on, vampire business.
Holly the white witch waitress is there to greet them, as is a very enthusiastic witch named Katie and a very, very enthusiastic cohort who goes by Marnie. Marnie is "fishing" in another plane at the moment and can't talk, but we're told she's a fantastic witch.
Tommy Merlotte limps in next with a bum leg, accompanied by Hoyt's maw. The two of them say grace real loud, getting the attention of Sam. They needle each other for a bit longer, which should lead to hold on a second: Tara and Naomi are making out again. But it's hotness interruptus when Lafayette texts to say that Sookie is alive. Tara lies and says that her grand-dad died, but she's not going anywhere.
Marnie is mourning her dead budgie, Minerva. Lafayette rolls his eyes while they all pray over poor Minerva -- up until the part where Marnie briefly brings the bird back to life. Even Holly is freaked out by this unexpected turn of events. And speaking of unexpected turn of events, the cute witch Katie is not what she seems. She's still a witch, apparently, but she's also a witch who hangs out with vampires -- specifically Vampire Bill, who now goes by the title "Your Majesty."
Sookie has just gotten out of the shower, which means something is about to happen, and it does. Eric shows up in all his resplendent hotness, and he makes a big announcement: He owns Sookie's house. By his logic, that means he also owns Sookie.