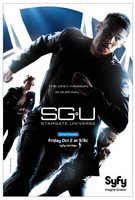 TV Info
---
Episode Premiere
April 02, 2010

Distributor
Syfy

Genre
Sci-Fi

Show Period
2009 - 2011

Production Company
MGM Worldwide Television


Cast and Crew
---
Director
Andy Mikita
Screenwriter
Joseph Mallozzi, Paul Mullie
Main Cast
Synopsis
---
Although TJ urges Colonel Young to open up about the recent losses in his crew - including Dr. Rush - Young remains stoic. Many crew members are suspicious, however, and Camille Wray makes it clear that she'll take the first opportunity to tell command on Earth about her doubts. Young, untroubled by her threats, attempts to use the communication stones, only to find himself on an alien ship, and the consciousness that inhabits Young's body turns violent toward the nearby crew.
Camille gathers a group to discuss her lack of faith in the military leadership. It's clear that rebellion is brewing.
Just as Young and Scott are about to explore a nearby planet, Lt. James alerts them to the approach of an alien warship. Eli sends a message in Ancient language to the ship, only to receive the word "Surrender", in English, in response. The alien ship loses no time in launching armed shuttles toward Destiny. Eli and Young attempt to fight back, but the limits on their power supply, as well as Eli's limited knowledge of the ship, have them fighting for their lives. Scott and Greer man a shuttle and engage the enemy in a dogfight.
As the battle rages on, an alien shuttle lands undetected on Destiny. The pilot wastes no time finding Chloe and secreting her away to the mothership, whereupon the attackers cease fire. When Chloe's absence is discovered, Young uses the communication stones in an attempt to find her. Instead, he discovers Rush, trapped in a preservation vat. Young breaks the glass, and they use a mind-reading device to communicate, sharing the information that Chloe may be on board. Young is pulled back to Destiny before they're able to find Chloe, however, and the native consciousness returns to the alien body, quickly moving to attack Rush. He's narrowly able to defeat the alien, and hurries to find Chloe and lead her to safety.
Mayhem reigns in the sick bay, with dozens of wounded. Just as the crew think the worst is behind them, the alien ship reengages. Despite Scott's pleas to save Chloe, Young returns fire. Desperate, Scott gets in a shuttle with Greer and attempts to save his love. Just as Young is about to fire full force, the enemy retreats - except for one shuttle - then jump away at light speed. The sole remaining shuttle holds Rush and Chloe, and they find their way safely back onto Destiny.
In the mess hall, Rush quietly recounts the story of how he wound up on the alien ship - from activating the crashed shuttle's communication system, to reversing the telepathic technology to gain strategic information on his captors. He tells his comrades that the aliens probably didn't want to destroy the humans onboard - they just wanted Destiny. He also covers up the fact that Young beat him and left him for dead.
Later, Rush approaches Young for a man-to-man to see where they stand. They begrudgingly agree to work together for the sake of the crew, but Rush isn't satisfied. In a surreptitious meeting with Wray, he plots with her for another shift of power.