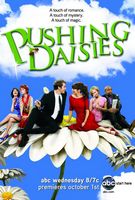 TV Info
---
Episode Premiere
October 15, 2008

Distributor
ABC

Genre
Drama, Comedy

Show Period
2007 - 2009

Production Company
Jinks/Cohen Company, Living Dead Guy Prod., The WB


Cast and Crew
---
Director
Peter O'Fallon
Screenwriter
Gretchen J. Berg, Aaron Harberts
Main Cast
Additional Cast
Synopsis
---
As Olive acclimates herself to the Sisters of the Divine Magnatum convent, she makes a friend in Sister Larue, a fellow connoisseur of truffles and truffle hunting. She becomes so comfortable, in fact, that she asks God for a sign as to whether she should stay or if she should go. And, as if on cue, her friend Sister Larue falls to her death from the convent belfry.
Meanwhile, Chuck decides to explore her ancestry with the help of a Cyrus Pennebaker, a local genealogist, much to the confusion and chagrin of the Pie Maker.
Olive comes back to town and hires Emerson to investigate what appears to be Sister Larue's suicide. Olive needs to prove that her dear Sister died not at her own hands, which would be a mortal sin, and damn her to an eternity in Hell.
Emerson, Chuck and Ned visit the convent disguised as Father Dowling, Sister Christian and Father Mulcahy from the Vatican. When they revive Sister LaRue, she asks about her diamonds, leading the three to suspect murder.
While investigating life at Divine Magnatum, the group learns that Sister LaRue was exchanging the convent's truffles with a local Swiss chef for goods from the outside world And that Sister LaRue had recently bestowed a tuber magnatum truffle, the diamond of the culinary world, to chef Hansel Von Getz.
Larue and Getz had formed a symbiotic relationship which soon turned romantic. Sadly, the Sister was never able to say goodbye to her lover --- though, oddly, Hansel discovered a "Dear John" letter penned by the nun.
After speaking with Chuck as Sister Christian, Mother Superior begins to suspect that the crime-solving trio may not actually be from the Vatican.
Olive confronts Ned about her former crush, why she joined the church and accidentally reveals that Lily is actually Chuck's mother.
Meanwhile, Chuck's investigator's investigation did not turn up any missing branches of her family tree. She begins to have an existential dilemma about life and death, which brings Ned to similar conundrums about his own existence.
Olive first suspects that the Mother Superior killed Sister Larue after realizing the "Dear John" letter left for Hansel was not in Sister Larue's handwriting. She then suspects the convent's father is behind the sister's death as his clothing is covered in bat droppings from the belfry. At the same time, Chuck (still disguised as Sister Christian) visits the belfry only to learn that Pigby, the truffle-hunting pig, was actually behind Larue's death.It is then revealed that Sister Larue used to be Dr. Linda Frank, a former scientist that specialized in the creation of new, edible truffles. At the convent she had experimented on their native mushrooms and eventually found a formula that would turn them into the tuber magnatum truffle, the diamonds of the culinary world. Mother Superior decides to continue Sister Larue's work, and Olive leaves the convent along with Digby.