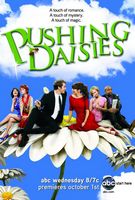 TV Info
---
Episode Premiere
October 08, 2008

Distributor
ABC

Genre
Drama, Comedy

Show Period
2007 - 2009

Production Company
Jinks/Cohen Company, Living Dead Guy Prod., The WB


Cast and Crew
---
Director
Lawrence Trilling
Screenwriter
Peter Ocko
Main Cast
Additional Cast
Synopsis
---
Years ago, when young Ned was leaving the Longborough School for Boys, he and Digby encountered a group of kindergarteners learning about birds. Eager to help, young Ned brought a trio of yellow canaries back to life, and learned that in the process he accidentally killed their class project. The real lesson Ned learned?
New beginnings are tough. Meanwhile, Mrs. Georgeann Heaps asks Emerson Cod for help finding her teenage daughter -- sweet Nikki Heaps. Though Emerson is hard at work on his upcoming pop-up book, "Lil' Gumshoe," he takes the case because Mr. Cod also knows what it is like to lose a daughter. Olive is still at the convent, confessing all of her woes to Pigby, awaiting some kind of epiphany. Emerson tries to get answers from Randi Jean, Nikki's best friend, but has no luck. Chuck plays good cop with Randy and learns that Nikki ran away to be an entertainer and that the young teen was living in a tricked-out van with Rocky, 'that guy in entertainment.'
Ned, Chuck and Emerson pay Rocky a visit, only to discover he had been killed by his mime makeup and Nikki had run away with a group of clowns (literally), thus breaking his heart. Ned and Emerson then attempt to pay the clowns a visit at Circus of Fun Circus, which incidentally, smells of "wet sawdust and underarm." They interrogate Bailey, the head of the circus, and get little more information than clowns are unpleasant. His assistant, however, tells them that sweet Nikki was a horrible girl.
While Emerson and Ned are at the circus, Chuck keeps an eye on The Pie Hole. She's rather surly towards the customers until her Aunt Vivian visits and requests a new berry pie. Chuck delivers it stealthily and stays under Vivian's radar and eyeline. Ned and Emerson continue on their quest for Nikki, only to find a tiny car sunk in the bottom of a pond, packed to the brim with dead clowns. They visit the clowns at the morgue and Ned brings Jackie Johnny, the head clown, back to life. They learn that the clown car had been run off the road after a night at the circus and landed in the water.
Nikki, however, was not with them at the time as she was still cleaning up an unfortunate victim of the clowns' act. Aunt Lily pays a visit to Olive in the convent and spills more details about Chuck's heritage... as well as her distaste for flavorless porridge.
The next day, back at the Circus of Fun, the group continues their quest for Nikki. Emerson remembers that her mother said Nikki did not like to be alone and assumes she's probably still under the big top (so to speak).
As they seek out the runaway, a group of mimes show up looking for employment. Apparently, someone knew the clowns would go missing soon... Bailey, head of Circus of Fun, confesses that Nikki had been working as a spy for him as the clowns were planning to unionize in exchange for more exposure in the circus, but he had not said anything earlier as he was afraid that he'd look guilty. Then three find Nikki inside the prize tent, hiding because she was worried that she'd be blamed for the clowns' deaths.
As the trio attempt to bring Nikki back home, she is kidnapped by a snooty French acrobat who also happened to be the person responsible for running the clowns off the road. Apparently Pierre was threatened by the clowns' plans to unionize and decided it was in his and the Circus of Fun's best interests if they were eliminated. Emerson succeeds at reuniting Nikki with her mother Georgeann, offers some parental wisdom and collects his reward. Ned and Chuck decide to reintroduce themselves every morning as neighbors and coworkers, teaching the Pie Maker that new beginnings may not be so bad after all...