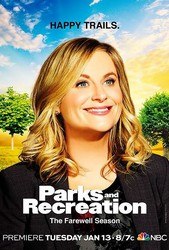 TV Info
---
Episode Premiere
April 25, 2013

Distributor
NBC

Genre
Comedy

Show Period
2009 - 2015

Production Company
Deedle-Dee Productions, Universal Media Studios


Cast and Crew
---
Director
Alan Yang
Screenwriter
Joe Mande, Alan Yang
Main Cast
Synopsis
---
Ron has proposed to cut funding to the Pawnee Palms Public Putt-Putt course, but if Leslie has anything to do with it, there's no way it passes. She's determined to protect the future of the PPPPP. Ron believes in cutting useless government projects, but if Leslie would like to contest his proposal, she's more than welcome to at tomorrow's city council meeting. But when it becomes clear that Councilman Jamm will be the "swing vote" on the deal, Leslie sets out to convince her nemesis to her line of reasoning...
April, Andy and Ben just closed a huge donation for the Redwood Music Program through Ben's Sweetums job, and they head to Paladino's to celebrate. But the mood is killed when Andy realizes his bandmates have rebranded themselves Rat Mouse and started a new group without him! Andy is devastated.
Tom is at the bar too, along with his girlfriend Mona Lisa, but she's driving him crazy; he's living in constant fear for his life. Tom realizes its time to do the mature thing... and have someone else break up with her for him. Ann decides to help Tom out - but only if he gives her his best blanket. Unfortunately, when Ann tries to break up with Mona Lisa by telling her Tom is broke, Mona Lisa quickly dumps Tom and assumes Ann as her best friend. Dragged onto the dance floor, Ann desperately whispers to Tom for help.
Leslie takes Jamm to the putt-putt course for a friendly round of golf, hopeful that he'll fall in love with the venue and vote against Ron's bill. Ron shows up unexpectedly, on to Leslie's nefarious scheme, and asks to play alongside his coworkers. Ron knows Leslie is pandering to get Jamm's vote, but she makes it clear to him in private that she will do anything to secure the future of this wonderful Pawnee pastime.
Andy confronts his former bandmates to figure out why they kicked him out of the band. It turns out they tried to call him, but Andy dropped his phone it the toilet over the weekend. Either way, they're backstabbers. Andy is an adult now - he works two part-time jobs, after all - and it's time for him to retire from music for good... but not before one more, farewell performance. Andy grabs a napkin and begins to quickly transcribe his magnum opus, right there at the bar.
After a couple hours on the putt-putt course, Ron demands Jamm give Leslie and him an answer; they both have made their cases for each side of the issue, and it's time the Councilman declare which way he's voting. But Jamm likes the charade and decides he'll vote for whoever wins in a 9-hole playoff on the very course that hangs in the balance. Leslie and Ron pick up their putters, determined to fight for their beliefs.
Commandeering the stage, Andy announces his retirement from music, as this will be his final performance. He sings his newly created song, "Swan Song," which is painful and oddly aggressive towards his formal band members. The next day, Andy shows up to work in a suit, committed to his new life as an "adult." April doesn't like this Andy though, as he's not being true to himself. She encourages him to reconcile with his band. Andy reaches out to his old friends, and they gladly bring him back on board.
After an hour with Mona Lisa, Ann is almost unrecognizable - she's covered in glitter and makeup and can't take it any longer. Ann finds Tom and begs him to get her out of this friendship. Tom and Ann fake as if they're making out, but all that does is entice Mona Lisa to have a "threesome" with them. When Ann storms off disgusted, Tom breaks things off for good with Mona Lisa, though they agree to be hookup buddies. Later, Tom gives Ann the blanket he promised her... with stipulations. But when his demands are so egregious and ridiculous, Ann doesn't even want it anymore. Yay, Tom gets to keep the blanket!
It comes down to the final hole, and Ron ends up beating Leslie and winning Jamm's vote. In his office the next day, Ron finds Leslie stole a gorilla obstacle from the putt-putt course and placed it by his desk. Leslie finds Ron's anti-government principles stupid and unnecessarily rigid. When Jamm tries to double-cross Ron and bribe Leslie, she can't bring herself to do it, and the course loses it's funding. In an impassioned speech, Leslie scolds Ron for sticking to his guns, but is also proud to call him her friend, as he's honorable, virtuous and good. Nevertheless, putt-putt is a staple of the Pawnee childhood experience and Leslie will miss it dearly.