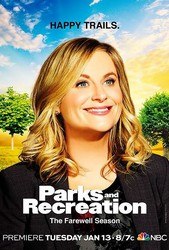 TV Info
---
Episode Premiere
February 07, 2013

Distributor
NBC

Genre
Comedy

Show Period
2009 - now

Production Company
Deedle-Dee Productions, Universal Media Studios


Cast and Crew
---
Director
Ken Whittingham
Screenwriter
Nate DiMeo
Main Cast
Synopsis
---
Empowered by her newfound independence, Ann decides to date herself for a while instead of getting swept up in a new boyfriend's personality. Six weeks into the experiment she comes to a realization: she's ready to be a mom, and she doesn't want to wait around any longer. It's a big decision, but she tells Leslie she's ready to go to the sperm bank and look into having a child on her own. Leslie tries to be supportive, but is quietly convinced that Ann's making a huge mistake. Later at the sperm bank, as they're browsing binders with donor information, Ann and Leslie run into a self-proclaimed frequent donor - Sewage Joe. His patronage is enough to scare them out of that place for good.
Meanwhile, Ben tries to make headway on his task for the wedding: finding a caterer. He's accompanied to a taste testing of the three best catering companies in Pawnee by his panel of experts: Chris loves vegetables, Ron loves meat and Tom considers himself a foodie (which apparently just means taking Instagrams of food instead of eating it). Ben breaks the three-way tie with his own input, deciding on the caterer who served an appetizer of "mini calzones."
While Leslie's busy with her councilwoman duties, April's tasked with her worst nightmare - leading a public forum for the Pawnee Commons every day that week. She decides that the best way to survive the ordeal is to imitate Leslie; she even dons one of Leslie's famous pantsuits to tackle the task. But Leslie's chipper methods just aren't suitable for April, and the first meeting quickly spirals out of her control.
Leslie inadvertently helps Ann realize that her ideal sperm donor should be someone she knows. With a new wave of enthusiasm, Ann narrows it down three potential sperm donors and brings them in to the office, pretending she's interviewing them for a blog. Ann's third candidate, Howard Tuttleman a.k.a. radio personality "The Douche" is surprisingly the best option. When you take away his crude radio persona, he's actually a well-spoken, educated guy with a good head on his shoulders.
After the taste testing, the guys are all completely crippled by horrible food poisoning; it looks the only one who made it out alive is Tom. And the only thing that Tom didn't eat was the mini calzones. Ben can't believe the calzones betrayed him, and he's back to square one in his food search. Later, the guys enjoy their first recovery meal at JJ's Diner. This comfort food gives Ben an idea - what if JJ's caters the wedding? Leslie is thrilled with Ben's idea. Waffles and a wedding?! What could be better!
For Ann it's decided: she chooses The Douche. But for Leslie, this battle if far from over. Leslie chases after The Douche to tell him the real motives behind Ann's questioning, hoping to scare him away. But instead, Howard warms up to the idea - he's always wanted kids, and maybe it's time to have a "Little Douche" running around. Leslie's slip up isn't a secret for long; The Douche reveals Ann's plan on the radio and turns Ann into a laughing stock. Leslie does her best to win back Ann's forgiveness, even showing up at the radio station and begging The Douche to stop.
With Andy's help, April realizes that the best way to run these public forums is to be herself. The next day, April lays down the law and does things the April way, and the results are fantastic. She may have gotten 30 complaints of excessive rudeness, but she also got 80 signatures supporting the park! April and Andy celebrate April's victory by burning Leslie's horrific pantsuit.
After Leslie's public embarrassment on The Douche's radio show, Ann forgives Leslie for spilling the beans. She also admits that Leslie may be right; this is a huge decision, and she needs to take her time considering her options. Leslie agrees and whips out a binder filled with all the game plan they'll need. If Ann's going to do this, she's doing it the Leslie way!