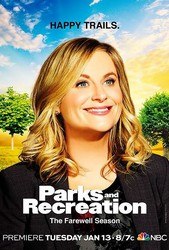 TV Info
---
Episode Premiere
May 12, 2011

Distributor
NBC

Genre
Comedy

Show Period
2009 - 2015

Production Company
Deedle-Dee Productions, Universal Media Studios


Cast and Crew
---
Director
Randall Einhorn
Screenwriter
Amy Poehler
Main Cast
Synopsis
---
Tom invites the Parks crew to the Snakehole Lounge for the launch of his new "Kahlua-style" liquor, SnakeJuice. Tom warns his colleagues that if they don't attend, they'll be on his "dunzo" list. In other words, Tom will be "done" with them and cut them out of his life.
Leslie asks Ann about her new crush Mattias, but becomes distracted when Ben rushes by and challenges Leslie to a race. She jets off, leaving Ann mid-sentence.
Meanwhile, Tom lectures the Parks crew about using guerilla marketing to help promote SnakeJuice. Tom even provides them with a script, but nobody quite delivers the hip lines in the way Tom intends. Ron in particular doesn't deliver slang well.
In a private meeting, Chris tells Ben and Leslie that Dennis Cooper has been fired, so they need to find a new Public Relations Director. Dennis went insane when he found out his wife, Jan, was cheating on him. Leslie suggests Ann for the job.
At the hospital, Leslie tells Ann that she suggested her for the PR position. Leslie hands Ann a stack of paperwork so she can prep for her big interview. Ann thanks Leslie but reminds her that she's been a nurse for 10 years. It's not something you just quit. Leslie counters that if Ann joins the Parks gang, she can make a "real difference."
April complains to Andy about Tom's lame promotional script. Andy tells April to think of this as an opportunity for sexy role-playing. April takes to the idea.
At the Snakehole Lounge, Leslie comes to support Tom and his drink. Leslie is horrified when she sees Ann dancing with some guy when she should be cramming for the Parks gig!
Ann greets Leslie warmly, but it's clear Leslie's peeved. Leslie admits that she expected Ann to be cramming for the job interview, but Ann explains that Leslie gave her a ridiculous amount of material to review. Besides, Ann isn't even sure she's going to interview. Ann's boyfriend Howard Tuttleman (a.k.a. "The Douche" from "Crazy Ira and the Douche") introduces himself to Leslie.
Meanwhile, April and Andy enjoy a night of role-playing. Andy pretends to be an FBI agent, while April's a rich widow with a secret.
Tom and Jean-Ralphio urge Ron to try SnakeJuice. Ron takes a sip of SnakeJuice and admits that it's delicious. In fact, Ron's such a fan that he goes around the club urging patrons to try some!
Leslie criticizes Ann for dating someone as dumb and annoying as the Douche. Ann asks if Leslie's just mad that Ann came to the Snakehole instead of preparing for the interview. Both Leslie and Ann play down their shared annoyance even though their true feelings are painfully obvious.
Chris confronts Tom for emailing everyone at City Hall about the SnakeJuice launch party. Since Tom is a shareholder in the Snakehole Lounge, this is a clear abuse of power. Chris tells Tom he must sell his shares in the bar to rectify the situation.
As they get totally drunk, Ann and Leslie's tense conversation turns into an all-out fight. Leslie suggests that Ann's moving too fast with the Douche. Ann counters that Leslie only objects because she's moving at such a glacial pace with Ben. The insults fly, and eventually Leslie and Ann decide maybe it's not a good idea to work together after all. Meanwhile, everyone at the club gets drunk off of SnakeJuice.
The next morning at work, Leslie and the gang are totally hung over. Leslie tells Ben that she thinks she owes Ann an apology. Ben goes to Ann's house to try to mend things between Ann and Leslie. He tells Ann that Leslie thinks very highly of her. Ann thanks Ben for the kind words and says she can see why Leslie likes him. Ann encourages Ben to ask Leslie out.
Ron meets with Chris and tells him Tom shouldn't have to sell the Snakehole shares. Chris insists that it's the right thing to do.
Ann shows up at the Parks Department to interview for the PR job. Ben politely tells her that her blouse is on inside out. Undaunted, Ann continues with the meeting and apologizes to Leslie. The two are friends once more. And of course, Ann lands the job. Fortunately she's able to continue working at the hospital part-time.
The Parks Department tunes into "Crazy Ira and the Douche." The Douche gossips about Leslie's fight with Ann and implies that both women are probably just lesbians.