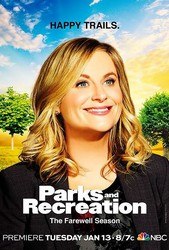 TV Info
---
Episode Premiere
April 14, 2011

Distributor
NBC

Genre
Comedy

Show Period
2009 - 2015

Production Company
Deedle-Dee Productions, Universal Media Studios


Cast and Crew
---
Director
Michael Trim
Screenwriter
Katie Dippold
Main Cast
Synopsis
---
Andy and April arrive at the office with invitations to a dinner party; they've been dating for almost a month and decide that they want to do something special. Only they're hardly hosting the party; it's at a friend's house, and everyone is assigned something to bring, from food to utensils.
Ben goes to Leslie for career advice; he has an offer to stay in Pawnee and work for Chris, otherwise he leaves in a week to go back to his old job. Their attraction towards each other creates an awkward moment; clearly Ben is hoping that Leslie will tell him to stay in Pawnee. She treads carefully, and tells him to make a pros and cons list since that's what she always does when faced with a difficult decision.
Meanwhile Ann is trying to get over her breakup with Chris by attending a singles party. Her awkwardness is palpable; it seems that Ann's been out of the game so long that she's forgotten how to flirt. For this reason, Ann's extremely grateful when she runs into Donna. Only Donna isn't so happy to see her, explaining that they're in the jungle; it's every woman for herself!
April and Andy's dinner party is under way, and almost the entire office is there. When Leslie goes into the kitchen to tell Andy they need more food, April enters in a white sundress, asking Andy how she looks. When Leslie asks what's going on, Andy and April reveal to Leslie that tonight they're getting married!
Leslie is in a state of shock, and rightfully so. After clarifying that April isn't pregnant or terminally ill, April and Andy explain the sequence of events. The previous day Andy said to April, "What if we got married tomorrow?" April said, "Fine," and that was that. Leslie argues that they're rushing into this; they have no place to live and have only been together a month, but the two shrug off Leslie's concerns. When Leslie asks Ron to help her knock some sense into them, he tells her that it's not his place, nor is it hers.
When Ann's attempt at flirting proves to be a disaster, Donna is left no choice but to step in and attempt to salvage the situation. She tells Ann to make the men come to her; she should seem available, but not too available.
Tom is thrilled when Andy agrees to let him be the best man. But as it turns out, Andy is going around asking all the men at the party (except for Jerry) to be his "best man." To try and beat out the competition and solidify his position as best man number one, Tom attempts to throw Andy an impromptu bachelor party.
Though her flirting improves drastically, Ann loses her spirit when Leslie calls to tell her the news of Andy and April's impending nuptials. After all, Andy was Ann's boyfriend for quite a while. Donna doesn't let Ann leave, providing a valid argument: there's no point in her going home and feeling sorry for herself over a man she didn't want to marry.
The wedding is underway, and is also surprisingly sentimental. Their vows are completely in character; April tells Andy that she hates everything but never seems to hate him. Andy tells April that he'll protect her against anything; be it an ultimate fighter, bear, or her mom. They exchange rings and kiss; they actually went through with it!
After the ceremony, the after party is in full swing. Ron comforts Leslie outside, saying that there's nothing she could have done to stop them from going through with it. Who's to say what works, anyway? When it comes to marriage, you jut have to find somebody you like and roll the dice.
When Ben approaches Leslie, she tells him that he should stay in Pawnee. She argues that he'll be happier with his life staying here and helping them build something instead of traveling and hacking up budgets. He interrupts Leslie to tell her that he's already accepted the job.