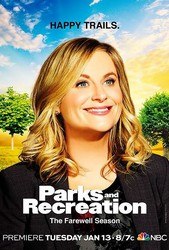 TV Info
---
Episode Premiere
May 20, 2010

Distributor
NBC

Genre
Comedy

Show Period
2009 - 2015

Production Company
Deedle-Dee Productions, Universal Media Studios


Cast and Crew
---
Director
Jason Woliner
Screenwriter
Daniel J. Goor
Main Cast
Additional Cast
Synopsis
---
Ron sits alone in the quiet and empty Parks and Recreation Department offices. On his rollerblades, Andy skates into the office to ask Ron why it's so quiet. Ron informs Andy that the government has been shut down for an undefined period of time.
Andy shows off his new red motorcycle, which he calls a "crotch rocket."
Leslie and Ron hold a town hall meeting with Pawnee residents about the parks closures due to the government shutdown. One resident asks about the Freddy Spaghetti concert scheduled for tomorrow to kick off summer. Leslie delivers the bad news - the concert has been cancelled.
Leslie talks to Chris and Ben about the Freddy Spaghetti concert. Chris tries to find a solution, but Ben tells Leslie nothing can be done; the concert will remain cancelled. While Leslie stays to talk to Ben, Chris heads out on his daily 10-mile run.
While on his 10-mile run, Chris stops at the hospital to ask Ann out on a date. Ann says no to but that doesn't dampen Chris' cheery domineer. He'll try again another time.
When the government shut down, Mark was offered a buyout. He decided to take the offer and accepted a job at a local construction company. Leslie's devastated by this development.
Leslie pays Tom a visit at his apartment. Tom answers the door in his sexy pajamas, telling Leslie she's interrupting his special time with Lucy, the bartender from the Snakehole Lounge. Leslie leaves Tom's and heads over to the hospital to talk to Ann.
Ann has a great idea. She tells Leslie to host the Freddy Spaghetti concert on the lot behind her house without the support of the government. Leslie calls all the Parks Department staff and has them meet her at Ann's the next morning.
Ron is a representative on the city's task force to cut the overall budget. While he's at the budget meeting, Leslie calls to tell him she's putting on the Freddy Spaghetti concert with or without his support.
Ron's all for supporting budget and staff cuts until Ben suggests they lay off Leslie, since she has the second highest salary in the department. Ron's opposed to this suggestion from the start, and finds himself positioning for her safety.
Andy catches up with April. They finally tell each other how they feel, but April decides she can't date him because she's concerned he still has feelings for Ann, even though Andy denies it.
Ron and Ben disagree over the decision to lay off Leslie. Ron offers himself up instead, but Ben turns him down. Ron lets it slip that Leslie's putting together the Freddy Spaghetti concert on her own, despite the government shutdown.
Ron gets to the lot to warn Leslie and her team that Ben and Chris are on their way. Per usual, Chris lets Ben break the bad news that the concert is cancelled. But Leslie fights back. The stage is built and everything at the concert has been donated so the show will go on. Then Donna delivers the news that Freddy Spaghetti isn't coming. He took another gig in a neighboring city when the concert was originally cancelled.
Desperate times call for desperate measures. Leslie asks Andy's band Mouse Rat to perform instead. Andy heads home to get his guitar, but gets hit by a car and breaks his arm.
At the last minute, Ben surprises Leslie by getting Freddy Spaghetti to perform the concert, which is a success after all.
Ann brings Andy a tray of jello while he's in the hospital and in a surprise move, kisses him. A little later, April pays Andy a visit and takes back her earlier decision. She wants to be with Andy, and she kisses him, too. Then Andy tells her about the kiss with Ann. April turns around and leaves.
After the concert, Leslie thanks everyone for their support. They all say goodbye and hope to see each other soon.
After the concert, Mark presents Leslie with blueprints for a new park. Despite the budget cuts, he's certain she can make it happen one day. The next day, Leslie joins the task force for budget cuts. To Ben's surprise, Ron made her the official Parks and Recreation Department representative.
Lucy is helping Tom clean out his desk when they notice Ron. Tom shares with Lucy: when Ron comes into the office dressed like Tiger Woods, it's because he had sex the night before. Just then, Wendy approaches Ron and they kiss. Shocked, Tom tells Lucy that Wendy is his ex-wife.