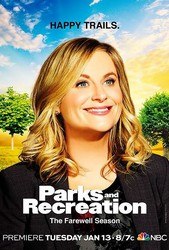 TV Info
---
Episode Premiere
February 04, 2010

Distributor
NBC

Genre
Comedy

Show Period
2009 - 2015

Production Company
Deedle-Dee Productions, Universal Media Studios


Cast and Crew
---
Director
Dean Holland
Screenwriter
Alan Yang
Main Cast
Synopsis
---
A newly divorced Tom gets fashion advice from Justin and Leslie--but his clothing choice between a sequin jacket and dragon cane are lacking in taste. Although, Donna digs the white leather suit.
Sweetums has been Pawnee's leading sweet treat manufacturer for over 80 years and will now be taking over the Parks Department concession stands. Sweetums, claiming to care about their customers, is promoting their new "healthy" energy bars: NutriYums, made with just a little bit of corn syrup. Ron is ecstatic about this new deal and thinks everything should be privatized and run by tokens.
Tom asks Mark to help him move since Mark has a pick-up truck and Mark reluctantly agrees--he hates having a pick-up truck. Meanwhile, Andy is super excited to help Tom out and April, "inspired" by Andy, volunteers to help as well. At the Sweetums launch party, Ron has had too much to drink and Leslie uses her chart to decide when he will be able to drive again, testing Ron's patience.
The next day, Ron proves to Leslie that alcohol doesn't affect him by showing off a harp he made after the launch party--and he's got the pictures to prove it. Leslie brings in the new NutriYums and the entire staff of the Parks Department can't stop eating them. When Ann stops by later, she finds the Parks Department on a sugar high and informs Leslie that these NutriYums are actually very bad for you. Since Pawnee has an obesity problem, Ann wants to stop the sale of NutriYums.
Ann and Leslie make a trip to the library to research more about Sweetums--but because of the Library-Parks rivalry, Leslie has to make a run for it with the movies instead of checking them out like a normal human being. Leslie gets the last word when she calls the librarians "punk-ass book jockeys." When Leslie tells Ron that she is worried about the NutriYums bars, Ron doesn't care--it's America and people can consume whatever they want. In order to cover their butts, the Parks Department will hold a public forum. Ron is very upset at Leslie and storms out of their meeting.
When Mark and the rest of the Parks Department show up at Tom's place to help him move they are in for an unpleasant surprise: Tom's got a lot of stuff and none of it is packed. But they do get to test out one of Tom's favorite possessions: DJ Roomba, a Roomba with an iPod attached to it. It turns out that Tom is happy to play the part of "management" rather than labor. Throughout the day he orders clothes and food over the phone while everyone else packs and moves his stuff.
Meanwhile, at the public forum, Ann tries to tell the people of Pawnee how unhealthy NutriYums are. However, she is not getting through to anyone--even when Leslie shows the video from Sweetums 30 years ago, where the president of the company admits to using corn syrup in their products. The audience is won over when Nick Newport Jr. shows up with his cute kids and hands out free NutriYums.
April's two boyfriends show up to Tom's moving day and are a little upset when they see April and Andy together. Meanwhile, Wendy tells Tom her goodbyes and he takes this opportunity to invite her to hang out and have pizza sometime.
At the end of the moving night, Tom and friends are enjoying some pizza when Jerry accidentally kills DJ Roomba by stepping on him. Later, Tom gets more bad news: he can't move into his new place until Monday. Everyone decides to take Tom's stuff to the Parks Department and leaves him on his own. Meanwhile, April's two boyfriends give her a hard time about hanging out with Andy--which seems to have an effect on her. The next day she rejects Andy when he asks her to hang out.
At the public forum, Ron calls a vote, and it's decided that Sweetums will remain charge of the Parks' concession stand. Later that night, Ron is having dinner with the Sweetums people and eating loads of steak, drinking whiskey and trying to enjoy a cigar (but it's too cold outside). Leslie gets Ron's point, but she gives him the booze chart and tells him that she cares about him and would rather not have to give his eulogy anytime soon.
Ron, touched by what Leslie said, apologizes to her for acting like a jerk, and tells Leslie to throw out the NutriYums. Down the hall, Jerry is being haunted by the ghost of DJ Roomba.