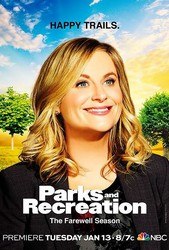 TV Info
---
Episode Premiere
May 14, 2009

Distributor
NBC

Genre
Comedy

Show Period
2009 - 2015

Production Company
Deedle-Dee Productions, Universal Media Studios


Cast and Crew
---
Director
Michael Schur
Screenwriter
Norm Hiscock
Main Cast
Synopsis
---
Leslie is excited to report that Andy is getting both of his leg casts off. It's a day Ann thought would never come. Afterwards, Andy and Ann come by the city hall to thank Leslie and her crew for all of their support during Andy's ordeal. Andy also wants Ann to plug his upcoming rock show. It's going to be a party, so Andy warns everybody to check their suits at the door.
Ann runs into Andy's doctor at work and invites him to Andy's rock show. Dr. Harris informs Ann that Andy wouldn't have as many problems getting used to life without his casts if he had gotten them removed two weeks earlier, like he was supposed to. Ann can't believe Andy kept his casts on for two weeks longer just so she could wait on him more.
Leslie is stuck talking to the city manager for the city of Eagleton, that her mother thought would make a great "connection." Only problem is that George is beginning to think he's on a date and it's creeping Leslie out. Meanwhile, everybody else is at Andy's rock show. But, it seems like Mark is the only one who didn't bring a date making him feel like the "seventh wheel."
Leslie squirms throughout her "date" and finally George asks her if he's keeping her from somewhere else she'd rather be. The truth is Leslie really wanted to go to the rock show, but put it on hold so she could meet George for dinner to discuss the pit project. George tells her she should go to the rock show and then grabs his jacket because he's looking forward to going, too.
Ann is still angry with Andy's lying about needing his casts for the last two weeks, but still shows up to the show. She makes it very clear she's angry with Andy, but softens up a little when Andy debuts his new song, a dedication to her, called, "Ann." Mark approaches Ann and starts to question her relationship. Ann accuses Mark of hitting on her.
After Leslie faces the ridicule from her coworkers for bringing George to the rock concert, she is ready to call it a night. George heads home, sensing no sparks with his date. On her way out, Mark asks Leslie to join him for a beer and the two bond over Leslie's embarrassing night. Mark suggests they grab some beers to go and head to the pit.
Ann and Andy are fighting back at the house over Andy's lying about the casts. He admits to keeping the casts on longer so Ann would cook for him more. An angry Ann orders Andy out of the house, so she can rethink her entire relationship.
As Mark and Leslie share in drinks and laughs at the pit, he pulls her in for a kiss. While Andy witnesses it all. Leslie pulls away from Mark and Mark immediately apologizes and gets ready to leave, but before that happens, he slips in the pit. Andy tells Ann and she rushes to check on Mark's condition.