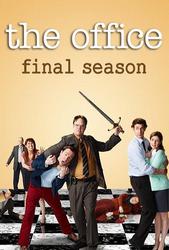 TV Info
---
Episode Premiere
March 01, 2012

Distributor
NBC

Genre
Comedy, Drama

Show Period
2005 - 2013

Production Company
Reveille, Deedle-Dee, NBC Universal


Cast and Crew
---
Director
Brent Forrester
Screenwriter
Mindy Kaling
Main Cast
Synopsis
---
Dwight introduces us to the new Sabre store, opening for the first time today. As he and Ryan hang banners, Erin sits in a tent on the front sidewalk. At Dwight's suggestion, she's disguised herself as a hipster in an attempt to drum up demand for Sabre's new tablet computer, the Pyramid. She tells us the tactic is clearly working and points to a group of fellow campers. As the camera zooms in, we see that they're actually homeless folks.
Nellie addresses the troops before the opening. She tells of her personal journey from humble roots - and encourages them to find strength in her story of triumph. After some mild applause, Dwight briefs the team on the big day. He wants them to especially be aware of bloggers who might visit today - they're extremely influential. Dwight announces that Ryan will be the official pitch man who will culminate the event today. The presentation will blow the crowd away, Ryan promises.
Back in Scranton, Andy and Pam arrive together. Andy's right eye is quite black and blue and the team demands an explanation. Andy tells of how Pam was accosted in the parking lot by a violent youth gang on bikes. He describes how he stepped in to help Pam and ended up trading punches before the toughs ran off. Pam corroborates the story: she's forever grateful for Andy's heroics. The story is true to a degree; what Andy didn't tell the team is that the "gang" was actually a group of 10-year-old girls on bicycles.
Dwight opens the store doors and immediately tries to foment a stampede. The half-amused crowd quietly files in and starts looking over the merchandise. As directed, Cathy flirts with a blogger, while hipster Erin tries to small talk another scenester. Nellie is impressed thus far.
As Andy nurses his black eye, the office team wants him and Pam to call the police; they don't feel safe in the neighborhood knowing the toughs are still out there. But Andy and Pam push back. We don't want the neighborhood to get a reputation as a troubled area, they explain. Instead, Andy counters, Toby will teach everyone self-defense. Toby's thrilled.
At the store, Dwight employs Erin to shoo some senior citizens out of the store; he doesn't want them polluting the perceived customer demo. Inside, Jim takes a call from Pam. As he's talking to her on the new store floor, two bloggers notice that Jim is talking on a regular cell phone - not the zippy new Sabre Arrowhead phone that he's wearing on his belt. "This is perfect for my fail blog," one blogger tells another as he snaps a picture. Jim's in hot water.
Nellie and Dwight pull Jim into a backroom for a nasty scolding. Told that his action could sabotage the store, Jim apologizes profusely. Dwight strips him of his equipment and relegates him to a new assignment: waving a sign in front of the store.
Toby teaches his self-defense seminar in the conference room. He explains the principles of Strike, Scream and Run. Creed immediately tries it out, slapping Meredith, shrieking and bolting from the conference room. Andy asks a veiled question about protecting himself from a small attacker - one without a penis.
Ryan is practicing his presentation in a back office for Dwight and Jim. He's got a wicked case of the jitters. As Ryan melts down and screams for help, Jim and Dwight to try to calm him down. When Ryan reveals that he wishes Kelly were there to soothe him, Dwight falls into character, sweet-talking him as if he were Kelly. Jim does the same, impersonating Ryan's mother. But then it blows up. Ryan's a wreck.
As Toby continues his seminar, a mother appears at the door with her 10-year-old daughter. She's brought the girl in to apologize. Andy tries to tell them they're in the wrong office, but the youngster recognizes her victims. After trading some insults, the girl says she's sorry and Andy bids the girl and her mom goodbye. Andy's co-workers immediately begin hazing him.
Erin and an old lady she shooed out of the store talk on the sidewalk. Erin tells her about Andy's rejection. The old lady encourages Erin to forget about him. Erin suddenly agrees.
Dwight and Jim are waiting for Ryan to come out of the bathroom. It's been 10 minutes and they're nervous. Finally Ryan texts Jim: he can't do the presentation and has headed home to see his mom. Dwight begs Jim to do the presentation. Jim agrees - only to discover that it involves a costume and makeup.
With dramatic music, projection and lighting cues to support him, Jim takes the stage. He's dressed in a cream Nehru suit and wearing heavy eyeliner. He begins reading from Ryan's cue cards; it's an over-the-top ramble about abandonment and the timelessness of pyramids. The new Sabre Pyramid is a bridge to the whole world, Jim tells the assembled bloggers, hipsters, and curious civilians. Somehow, it works. As the lights come up, Jim and the Pyramid are met with thunderous applause.
Toby continues his self-defense lesson - and Kelly wants to put it to the test. She gets up and begins assaulting and slapping Toby, who protects himself. But Andy's seen enough. He jumps up to separate the two - and is accidentally smacked in his other eye by Kelly. Seeing that their boss has been physically defeated by a female twice in the same day is just too much for the team; they snicker and laugh. Andy is furious. He lectures them that he was hurt while trying to defend others from harm.
Nellie calls Dwight into the back office. Dwight begins critiquing the presentation, admitting they could have done better. But Nellie silences him. "Dwight, you are the new vice-president," she tells him. The both scream and shout in celebration.
We flash back to Jim outside the store, haplessly trying to spin the grand opening sign.