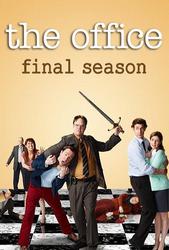 TV Info
---
Episode Premiere
February 16, 2012

Distributor
NBC

Genre
Comedy, Drama

Show Period
2005 - 2013

Production Company
Reveille, Deedle-Dee, NBC Universal


Cast and Crew
---
Director
Matt Sohn
Screenwriter
Daniel Chun
Main Cast
Synopsis
---
We're in Florida, where Dwight has brought a team from Scranton for a three-week special project. At his hotel, Dwight's up bright and early to get his team off to a fresh start. He enters each of his team members' hotel rooms, rousting them with glee. But Jim's woken up before Dwight and set a trap for him. He's arranged his room to look like a murder scene, with himself the victim and Dwight the killer. Even though only Erin and Dwight are around to be frightened by it, it's a prank for the ages.
Dwight stops by the hotel mini-store for some antacid tablets. He's suffering serious gastrointestinal distress; Jim tells him that he's poisoned him. Dwight assembles the team for the shuttle van ride to the hotel where they'll be working. Stanley's rented himself a red convertible; he wants to take full advantage of being away from his family for three weeks.
Back in Scranton, Andy presides over a very quiet office. Pam discovers that Erin forwarded the phone system to voice mail. She resets it and the phone immediately begins ringing. Andy looks to Pam to answer the call, but she declares she's not going to cover reception. Andy relents and tries to answer the phone, haplessly.
Dwight's team, along with Todd Packer and some others, are assembled in a hotel meeting room. Nellie Bertram, Sabre's President of Special Projects, rises from the crowd and immediately puts everyone on the defensive. She explains that after being rejected for the branch manager's job in Scranton, she approached Jo Bennett with an idea to develop a line of Sabre retail stores. They're here today to help make that dream a reality, she tells them.
Back in Scranton, Andy's stepped into the receptionist shoes with pluck. He loves it. We see Andy answering the phone, faxing, putting out snacks, and distributing the mail as he spreads good cheer throughout the office. Clearly the carefree life of the receptionist suits him.
Dwight's distress continues; he can barely walk. Given that he's trying to make a solid impression with Nellie, his affliction couldn't have come at a worse time. Dwight's pain becomes unbearable and he calls for an ambulance. As he's on the phone with 911, Dwight asks Nellie about what seems to be an open vice-president's job on the future organization chart. Nellie coyly compliments him for noticing, then throws a sly look toward him and Todd Packer. She's clearly laying groundwork for them to battle for the position. Dwight cancels the ambulance call.
Stanley convinces Jim to loosen up a little - maybe even enjoy a little rum. Jim has a momentary fit of conscience, but then gives in to Stanley's good times mentality. Nellie is trying to rally the troops around the corporate flag with a team-building exercise. She explains that the human pyramid is meant to reflect the innovative Sabre tablet, the Pyramid. Dwight insists on being on top of the pyramid. But as he struggles to climb atop the others, he collapses. An EMT arrives and tells Dwight he's got appendicitis.
Erin calls a post-operative Dwight in the hospital with an update. She explains that Packer's giving his own presentation and that Jim will have to give the Scranton team's presentation - the one Dwight was supposed to give to impress Nellie. Dwight scrambles out of bed and makes his way back to the hotel meeting room; he's stashed an IV in a backpack. After a briefing from the team, Dwight trudges to the front of the room and painfully makes his way through the presentation.
Pam and Darryl ask Andy why he's still hanging out playing receptionist. He tells them he thinks he's found his new calling. Darryl and Pam both know otherwise and convince him he's just pretending as way of avoiding his real work.
Dwight's unfamiliar with the PowerPoint presentation that Jim, Erin and the team have created. But he fakes his way through as best he can, emphasizing his own personal knowledge of consumer habits and an unabiding confidence that he can lead the effort to exploit them. Nellie's impressed.
As the meeting breaks up, Nellie approaches Dwight and Packer and invites them both to meet over breakfast to discuss the store. Todd quickly agrees - as does Dwight. "I'll cancel my post-operative appointment right now," he tells Nellie. He shows his extracted appendix to the camera. Nobody will ever want a vice presidency more than Dwight.
Nellie brings in a motivational speaker for the group. It's Wally Amos, of Famous Amos Cookies fame. The group barely lets Wally start his story before they short-circuit his tale of success. Erin approaches Wally with an idea for a new cookie, but he's heard it all before. They all retreat to enjoy the man's cookies.