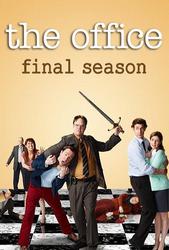 TV Info
---
Episode Premiere
October 27, 2011

Distributor
NBC

Genre
Comedy, Drama

Show Period
2005 - 2013

Production Company
Reveille, Deedle-Dee, NBC Universal


Cast and Crew
---
Director
Randall Einhorn
Screenwriter
Carrie Kemper
Main Cast
Synopsis
---
To ensure that this year's costume contest will be top-notch, Andy pre-screens each staffer's pick. He quickly approves Angela's cat costume and Stanley's Chef outfit, but he's having trouble with Phyllis's Playboy bunny and Kevin's Planet of the Apes gorilla. They're denied. What's worse, he's got Meredith and Kelly fighting over who will be wedding-day Kate Middleton. Meredith shows cell phone video of herself at the ceremony, clinching the decision.
The rest of the team starts filing in: Erin as the Wendy's girl, Andy as a construction worker, Kevin, Darryl and a reluctant Jim as the Miami Heat's big three: LeBron James, Dwyane Wade and Chris Bosh. Andy grows concerned. He's received a text from Robert California, saying how much he's looking forward to visiting the office and how high his expectations are.
The character parade continues: Kelly, Toby and Gabe are dressed as skeletons, Pam as a kangaroo, Creed as Osama Bin Laden, Oscar as disgraced congressman Anthony Weiner, Ryan as Jesse Pinkman from Breaking Bad, and Dwight as buxom sci-fi alien Sarah Kerrigan from StarCraft. Few recognize Dwight's getup, much to his dismay. Dwight blames Toby: his "no weapons" rule has left his costume without its trademark bladed wings.
As Oscar, Ryan and Phyllis make small talk in the break room, Pam relays a frightening tale, one she swears is true. When she was 22, she worked at the Banshee Pub, even though others had told her it was haunted. One night, she looked in the bar mirror and spied an old man all in black. But when she turned around to look in the bar, there was no one there. The cook told her that she had seen what everyone sees: The Man in Black.
Later Jim asks Pam privately about her ghost story. He's incredulous and thinks that Pam doesn't really believe it either. But she'd adamant: she saw what she saw. He keeps pushing her to let him in on the secret, but she stands firm.
Robert California arrives, dressed as Jack Nicholson. He's brought his 11-year-old son Bert with him, who's costumed as a gruesome zombie. To Andy's horror, the boy remarks that the office decorations look like they're for babies; he asks to use a computer so he can check on a developing hurricane. His father invites him to sit at Jim's computer. The CEO checks in on the "skeleton crew" of Toby, Gabe and Erin. He asks Erin how her life is, pressing ever deeper until he gets her to reveal her greatest fear: dying alone and unmarried. He turns next to Toby, who meekly tells him he's doing just fine.
Concerned that Erin has decorated the office far too wholesomely, Phyllis and Angela start tearing the festive decorations off the wall. Erin's uncomfortable: Andy put her in charge of the party, and clearly she's missed the mark. Atop her concern that Andy is already unhappy with her performance as a receptionist, this is no small blow.
A worried Erin seeks out Andy in his office. She wonders why Andy asked Angela and Phyllis to help redecorate; he replies that he agrees with Robert California and his son: the party needs a little more "13" in its "PG-13." Erin wants to know if perhaps there's something more going on, something between the two of them. Andy tells her that he'd like to talk about it at the end of the day, not now.
As Bert and Dwight trade barbs over what's truly scary in the real world, Erin turns to Gabe for some thoughts on how to spice up the party. He's got just the idea, he tells her and runs off. Meanwhile, Erin's got a few thoughts of her own on how to boost the fright factor: cauldrons of bubbling grog, organ music and witches' faces everywhere. Andy's impressed.
Jim calls Pam inter-office to ask if she'd like to see the documentary film, Ghostbusters. He continues to tease and prods her to draw what she saw. She promptly scribbles a raised middle finger and shows it to Jim. Jim later learns that Meredith believes in ghosts too. Kevin boasts that he's only afraid of real things like serial killers and kidnappers, not ghosts and mummies. Robert California sets him straight about mummies; Kevin grows visibly concerned.
Gabe returns with his contribution to making the gathering a frightful party to remember. He screens a video short filled with disturbing images: time-lapse of rotting fruit, a man brushing his teeth with mud, a rat traipsing over a portrait of a screaming woman. Gabe explains it's an example of a growing film movement, the Cinema of the Unsettling. The office is nauseated. Erin realizes showing the film was a mistake - she now understands that Andy wanted a more "adult" theme. She produces a naughty card game called Pecker's Poker. But it's another miscue.
Erin, Andy and Robert all meet in Andy's office to discuss the misunderstanding. Erin explains that when Andy asked for a meeting later in the day, she became nervous. Robert realizes that the dynamic between Erin and Andy reflects something more than a working relationship and tries to butt out. Andy finally reveals what he wanted to talk to Erin about: he's got a new girlfriend. They've been on 31 dates. Erin, trying to hide her feelings, tells him congratulations and hurries out of the office.
As Jim persists in teasing Pam about her belief in ghosts, Robert California continues to probe his workers' fears. He discovers that for Darryl it's being buried alive; for Meredith, it's Jim; for Creed, it's snakes. Finally, he gathers the crowd to tell his own ghost story.
California crafts a tale that incorporates all of his workers' fears: a sordid story of a withdrawn, husbandless new mother whose baby was smothered in dirt in its crib and then attacked by a snakes and mummies. He gives the story a semi-comic punchline (baby declaring to its horrified mother "I'm fine, bitch!") and walks out. Only his son Bertie finds the story amusing.
As we see scenes of reconciliation and office-mates hugging at the end of the day, Robert California explains to the camera that fear is the most curious of motivators. Shame on us, he says, for taking a day a year to dress up and celebrate fear.
As the party winds down, Bert pays a visit to Toby. Pack your things, you're fired, he tells an incredulous Toby. Toby tries to laugh it off, but the boy seems to be deadly serious. Watching it all from the side, Dwight is smiling ear to ear.