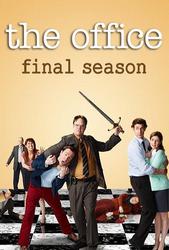 TV Info
---
Episode Premiere
May 19, 2011

Distributor
NBC

Genre
Comedy, Drama

Show Period
2005 - 2013

Production Company
Reveille, Deedle-Dee, NBC Universal


Cast and Crew
---
Director
Jeffrey Blitz
Screenwriter
Paul Lieberstein
Main Cast
Synopsis
---
Kelly's pathetic excuse for an interview is interrupted by Dwight, who demands to be considered for the position. Jim takes him outside and calmly explains that there is no way that he's getting an interview; he shot a gun in the office. Dwight refuses to accept defeat and claims that he'll get the interview without Jim's help.
Unable to contain his juicy gossip, Oscar reveals to Pam that he's almost certain that the senator is gay. Pam refuses to believe it, until Ryan interrupts to confirm the gossip; he has first-hand evidence. Apparently, the senator "liked" Ryan's Facebook photos at 3:00 in the morning, a sure sign.
Erin seeks out Phyllis' advice on how to get Andy to ask her out. When Erin rejects Phyllis' tried and true method of waiting in his office wearing nothing but cat ears, Phyllis offers more heartfelt advice; if Erin wants him, she just has to go for it.
The interview process laboriously continues. A British woman, Nelly, can't seem to get her management style nailed down; while at first she suggests no cubicles and no job titles, she then does a complete 180, proposing more division and hierarchy.
For some reason, it's on Pam to keep Creed occupied so he doesn't single-handedly destroy the department and alienate all of their clients. First, she keeps Creed busy by asking him to find six differences in two exact pictures. Later, when Creed tells his assistant to put him through to their biggest client, Pam fields the call and pretends to be the client to avert disaster.
Jo Bennet from corporate arrives at the office to oversee the interview process. When Dwight approaches her to demand an interview, she bluntly states that his behavior as acting manager makes that impossible. He still refuses to take no for an answer and poses as a burn victim, completely bandaged up, in order to be considered for the position. While the answer is still no, Jo seems to find his eccentric behavior endearing, as she admires his passion for the job.
Kelly confronts Jo, explaining that Gabe has become a crazy stalker ever since Erin dumped him. When Andy comes up in discussion as a potential candidate, it becomes clear to Jo that Gabe is unable to keep his personal feelings out of the workplace. Jo decides to take Gabe back to Florida to find him another position and replaces him with Kelly on the search committee.
Jo prepares to leave the office and tells Jim to give Dwight an interview; she likes his crazy spirit. She tells Jim that she doesn't care who he ends up picking but to be careful in his selection and not screw this one up.
Erin takes Phyllis' advice and asks Andy out in front of the office... with a sock puppet. Andy tells her that while he's really flattered, he doesn't think it's the best idea. In private, Andy explains his behavior; he just wasn't feeling it, and he can't forget the fact that she chose Gabe over him. But the more Andy tries to rationalize his decision the more he seems to regret it.
At this point, everyone in the office, except for Angela, knows that her fiance is gay. The group discusses the issue and decides to keep the truth from her; she seems happy, and this is probably her last chance at a family. However, Angela obnoxiously flaunting her extravagant wedding plans makes it hard for Pam to keep the secret to herself.
When Jim stubbornly refuses to ask Dwight any actual interview questions, Dwight asks the questions himself and actually delivers fairly impressive answers. Kelly feigns interest in Dwight, but only because Dwight bribed her. Toby, however, is genuinely for it and suggests they try him out. Jim is dumbfounded: is Dwight really being considered as a legitimate candidate?
Kelly and Dwight spread word around the office that Dwight is manager. Jim clears things up, stating that nothing has been decided and Dwight will definitely not be manager. Gabe interrupts the discussion to reveal that he's leaving. The office feigns disappointment, but no one is really sad to see him go. Kelly can't even hug him without being visibly disgusted.
At a loss for ideas, Jim asks the office for any suggestions, only to be met with self-promotion and irrelevant comments. While the office wants to make the decision by a vote, Jim refuses; the search committee will meet in the conference room to make the decision on its own.