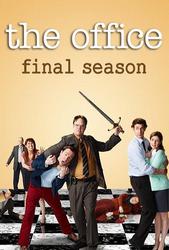 TV Info
---
Episode Premiere
May 12, 2011

Distributor
NBC

Genre
Comedy, Drama

Show Period
2005 - 2013

Production Company
Reveille, Deedle-Dee, NBC Universal


Cast and Crew
---
Director
Troy Miller
Screenwriter
Justin Spitzer
Main Cast
Additional Cast
Synopsis
---
Some members of the staff gather together trying to decide on an appropriate gift for Deangelo, who is in a coma following his horrific accident on the warehouse basketball court. A simple gift basket will do the trick. Back at his desk, Jim fields a call from Jo Bennet who asks him if he'd like to step up as acting manager. Jim turns her down, not wanting to upset the harmony that seems to have set in without a boss around. Jo calls Dwight next. He quickly accepts the challenge and moves immediately into Michael's old office.
Dwight wastes no time making some changes. There's a time clock, prescribed meal times, new jumbo-sized business cards, individual copier codes and a daily Pledge of Allegiance. At the morning briefing, he announces that Jo Bennet will be visiting and that they should be at their best.
Gabe summons Andy into the conference room. He confesses to Andy that he's still in love with Erin and tearily asks for an assurance from Andy that he won't try to date Erin. Later Gabe marches straight up to Erin at reception and confesses his love to her. Erin's pleasant but in interview explains that she's taking a break from dating. Gabe's touch was repulsing her.
Dwight catches Jim putting up a subversive poster for "The Fist." Jim explains to Dwight that it's a social club, like the Black Panthers or the Communists. Dwight refuses to accept that Jim would be fomenting a revolution inside the office, but lets it go for the time being. He returns to his new office and explains in interview that he's achieved maximum happiness and intends to remain happy for the rest of his life.
In Dwight's new office, Jim comments on the furnishings - a collectible gun, a piranha in an aquarium and a replica of Uday Hussein's desk. Dwight has little time for small talk and explains plainly to Jim that he will not tolerate any insubordination during Jo's upcoming visit to the office. Jim explains that Dwight has no firing power; Dwight insists on "pre-firing" him.
Dwight explains to Jordan that others consider her a joke, that she was only hired for her looks. He explains that he's telling her the truth so that she will in turn report back on what people are saying about him. But he's suddenly distracted by a package containing a spiffy leather holster, a gift from his uncle. His collectible Beaumont revolver fits it perfectly. He can't help but strut around the office, much to the consternation of the staff. They convince him to put it away. But as Dwight is retreating, he's careless with the weapon and it discharges, nearly shooting Andy.
As Andy suffers from an incredible ringing in his ear, the office staff attempts to put things back together. Toby arrives, filled with questions; he looks forward to using the accident report binder. Dwight downplays what happened. But it's clear that Andy's injured, and Daryl takes him to the hospital to be treated.
Dwight calls a meeting in the conference room, ostensibly conducting a seminar about gun safety. But he's really there to do damage control. Toby takes eyewitness accounts; there's little question that Dwight was at fault. Andy returns; his eardrum is burst. The rest of the staff begins bargaining with Dwight, looking for favors in return for their silence.
Jo Bennett arrives for a look around. Dwight is nervous and must deftly dance among the staffers who are conniving for favors in exchange for not making him look bad in front of the boss. Tired of the blackmail, Dwight confesses to Jo that he fired a gun in the office. Jo is outraged. She explains it's over for Dwight.
Gabe bursts in on Andy and Erin making small talk in the break room. He publicly reminds Andy of the promise Andy made to not want to date Erin again. Andy explains that he was trying to make Gabe feel better earlier. The reality is that he won't commit as to whether he wants to date Erin again.
Jo recruits Jim, Toby and Gabe for a search committee to find a suitable replacement manager. In the interim, she needs an interim manager and asks the team who has the most experience. Answer: Creed Bratton.
Angela, Kevin and Daryl are gathered around the copier, painfully entering the requisite 22-digit code to get it to work. It's clear Michael's left a void.