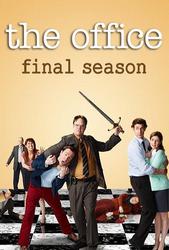 TV Info
---
Episode Premiere
February 10, 2011

Distributor
NBC

Genre
Comedy, Drama

Show Period
2005 - 2013

Production Company
Reveille, Deedle-Dee, NBC Universal


Cast and Crew
---
Director
Greg Daniels
Screenwriter
Robert Padnick
Main Cast
Additional Cast
Synopsis
---
Michael and Holly walk into the office and immediately get kissy with one another. Their actions obviously make the co-workers around them uncomfortable, but they don't seem to mind. Even as Oscar is going through his accounting report, he can't help but notice Holly and Michael's hand rubbing.
Jim and Pam decide to go for a romantic lunch at work, so they can spend Valentine's night in with Cece. Pam and Jim obviously got into the bottomless champagne at lunchtime. Later on, Jim has a fun time with Dwight at his desk by giving him a Valentine's Day card.
Gabe calls a meeting in the conference room to talk about PDAs in the workplace. During the meeting, Michael is on Holly's lap. Gabe cites Pam and Jim as an example of how to properly handle a relationship in the office. Michael takes offense that people are not happy with his and Holly's PDAs. In fact, Michael wants to create a hook-up closet for couples to get it on.
Michael announces to the office that everybody is jealous because he and Holly are just two people in love on Valentine's Day. Holly looks shocked when Michael declares he loves her. She reminds Michael they have only been dating for a week. But then Holly responds that she "love loves" Michael and the two shake hands.
Gabe has sent Erin on a Valentine's Day scavenger hunt and she enlists the help of Andy for sorting out the clues. Andy and Erin share some good laughs while trying to track down all of Gabe's clues. Erin gets one clue mixed up and thinks it's meant to be a kiss to Andy, until Gabe blows Erin a kiss from his office. A crushed Andy walks away.
Michael is reminded that when Holly's temporary transfer time is up, she'll be heading back to Nashua. Michael begins to get sad, remembering the last time they were apart. Dwight comes into Michael's office and comforts him and gives him some advice. He encourages Michael to talk to Holly. Michael thinks Dwight is right.
Michael and Holly agree that they can't be long distance and Holly doesn't really need the job at Dunder Mifflin. She agrees to stay in Scranton and move in with Michael and they announce their plans to the office. Just then, a sheepish Jim and Pam come into the office with their clothes all rumpled up. They deny they snuck off to have sex, but they are doing a bad job of lying.