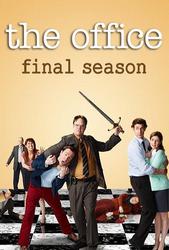 TV Info
---
Episode Premiere
December 09, 2010

Distributor
NBC

Genre
Comedy, Drama

Show Period
2005 - 2013

Production Company
Reveille, Deedle-Dee, NBC Universal


Cast and Crew
---
Director
Rainn Wilson
Screenwriter
Mindy Kaling
Main Cast
Additional Cast
Synopsis
---
As head office administrator, Pam decides to shut down the party planning committee and take over its duties from Angela. Meanwhile, Kelly is excited to hand out Sabre presents as part of her duties as Minority Executive Trainee. She chooses Hello Kitty laptop covers as gifts, and not everyone is happy with her choice.
Angela is still smitten with her new beau Robert, a state senator she met at Dwight's hay place. She defends her decision not to take Robert to the office holiday party, since he's a public figure and she doesn't want to expose him to any crazy antics.
As office administrator, Pam sets her own rules for this year's holiday party. Afterwards, Toby takes the floor to announce he's been called to jury duty on a high-profile case in Scranton, hinting that it's the trial of the Scranton Strangler. Toby also announces that Holly will be returning to the office as his temporary replacement.
Michael decides to hold his own welcoming party for Holly to replace the office holiday party. He wants it bigger and better than any other holiday party. Meanwhile Pam usually stresses over what to buy Jim since he's the champion at gift giving, but this year, she came up with the perfect idea: a Jim Halpert comic book!
Earlier in the day, Jim threw a snowball at Dwight in the office and now Dwight has declared war. He asks Jim to meet him in the parking lot at noon. As Jim waits, Dwight comes out with a surprise attack and starts pelting Jim with snowballs. Jim falls to the ground and starts bleeding, realizing Dwight's a mad man.
When Holly shows up at the office, she's instantly greeted with smiles from Michael. She can't believe everything Michael did for her homecoming, including hiring a jazz musician to play in the conference room. Holly reminds Michael that she moved in with AJ back in New Hampshire.
Later on, Phyllis, Pam, Kelly and Erin all want an update on Holly's love life back in Nashua. She tells them that she and AJ are practically engaged. Holly opens up and tells the girls that if AJ doesn't propose by the end of the year, they're over.
Dwight continues his thirst for revenge by dressing like Pam to fool Jim, then pelting him with more snowballs. Dwight admits he has a wig for every person in the office because you never know. Meanwhile, Jim attempts his revenge, throwing a snowball at Dwight with his lacrosse stick, but he misses, taking out the conference room window instead.
In a fit of jealousy, Michael secretly takes the Woody doll that AJ gave Holly, throws it away, and pours coffee on it. Holly finds the doll and instantly believes somebody in the office stole it because they dislike her. When people accuse Michael of doing it, he cracks and says he did it out of jealousy.
Michael lets Holly know he still has feelings for her; it's unfair that she decided to stay with AJ without giving Michael a chance. Michael runs back to his office and changes from his Santa costume into his normal work clothes.
Darryl's happy to have his daughter for the holidays, but when she's clearly bored at the office holiday party, he has no idea what to do. Pam brings Jada and Darryl to the warehouse, where Andy, dressed as the Grinch, has hidden the Christmas star, only to reveal where it's hidden minutes later. Later, Darryl finds his daughter is entertained by the vending machines.
Angela brings her boyfriend Robert to the party. Oscar instantly figures out he's gay. Oblivious, Angela goes on and on about all the things Robert has done for the city as a senator. Oscar catches Robert checking out Ryan's butt as he walks away.
Pam and Jim sneak away to the break room to exchange presents. Pam's floored with the beautiful bracelet Jim gives her, though she's a bit nervous watching Jim open his gift. When she showed it around the office, most people weren't impressed. Jim can only say how awesome it is. Privately, he gets choked up with Pam's thoughtfulness.
AJ comes by the office to surprise Holly at work, and Michael privately declares he's dead inside. As the party begins, Pam follows Michael into the parking lot where he starts to cry. Pam feels sorry for Michael and tells him about Holly's confession about giving AJ an ultimatum. Pam tells Michael to be patient into the new year.