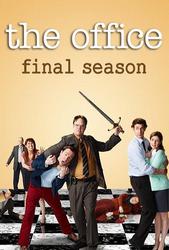 TV Info
---
Episode Premiere
September 30, 2010

Distributor
NBC

Genre
Comedy, Drama

Show Period
2005 - 2013

Production Company
Reveille, Deedle-Dee, NBC Universal


Cast and Crew
---
Director
Jeffrey Blitz
Screenwriter
B. J. Novak
Main Cast
Synopsis
---
Michael is forced to take counseling sessions due to the spanking incident with his nephew. Now, Corporate is making Michael participate in six hours of sessions with Toby. Toby is looking forward to the sessions, while Michael already despises the idea.
Dwight walks in and announces the whole office should boycott the mall. He goes so far as to cancel all of Andy's paper sales at the mall when Andy isn't looking. Dwight shares his story that the store Precious Heirlooms refused to sell to Dwight based on his appearance. Kelly thinks they need to "Pretty Woman their asses" and teach those snobs a lesson.
When a window salesman comes by the office looking for the office administrator, Pam steps up and claims the position. Realizing she's not cut out for sales, Pam makes up her own job title. This is Pam's subtle way of promoting herself and she's happy with her plan.
Michael continues to have fun at Toby's expense while Toby listens to Michael's latest rants. Michael tells Toby he was probed by an ALF. Toby agrees that they aren't getting anywhere in these sessions, but as soon as Toby acts like he doesn't care, Michael begins to open up.
Jim and Andy help give Dwight a full makeover before he goes over to the mall to "Pretty Woman" them. Dwight's new look grabs Angela's attention and she wants him to come over afterwards for sex. Before Dwight agrees, he punches Angela's "sex card."
Michael reveals stories of his childhood to Toby, but then realizes that he's participating in Toby's counseling. He immediately shuts down and tells Toby that he just wants to sign the forms and say he participated so he can leave. Toby does not try to stop him.
Pam has taken her new position as office administrator very seriously. All the other employees don't seem to question her new role. In fact, they all congratulate her. When Gabe tries to get Pam to admit she made the position up, she plays Gabe and bullies him into creating the position for her. Pam leaves Gabe's office proud of herself.
Dwight sets his plan in motion and goes back to the mall to tell Precious Heirlooms they made a huge mistake turning a way his business. But instead, the owner tells Dwight they will serve him now, since he's in more presentable attire and not the overalls and beet-stained hands he had before. Jim and Andy realize Dwight really was the crazy one in the situation.
Michael gets in trouble with Corporate after they realize he forged Toby's signature claiming he underwent the six hours of counseling. Toby thinks Michael wanted to get in trouble on purpose so he could have more sessions with Toby. Both men bond as they complete Michael's counseling.