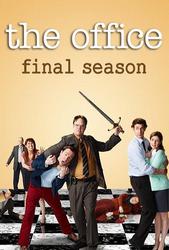 TV Info
---
Episode Premiere
May 13, 2010

Distributor
NBC

Genre
Comedy, Drama

Show Period
2005 - 2013

Production Company
Reveille, Deedle-Dee, NBC Universal


Cast and Crew
---
Director
Randall Einhorn
Screenwriter
Aaron Shure
Main Cast
Additional Cast
Synopsis
---
After finding out Donna is married, Pam and Erin prepare for a breakdown from Michael. Erin stocks up on ice cream, "Mr. Bean" on DVD, as well as "The Pink Panther." Now it is up to the office to sign up in shifts to make sure Michael isn't alone at work. But surprisingly, Michael is in a very good mood.
Angela and Dwight continue to work out their baby contract. They bring in a mediator to help work out the couple's differences and to avoid getting the courts involved. Dwight is continuing to try to get out of having a baby with Angela, but since he signed the contract, Angela is holding him to it.
With Michael still appearing to be perfectly fine, Pam asks him point-blank if he is still seeing Donna. Michael sees no problem with dating a married woman. He says Donna is fine with the fact that she's cheating on her husband and the office should be fine with it, too.
Andy knows what it's like to be cheated on, after his past with Angela and Dwight. He wants Michael to consider Donna's husband's feelings. Michael agrees to go to a baseball game with Andy, where Donna's husband Shane is the coach.
Pam and Jim have been having a hard time sleeping at night because of baby C.C. Gabe catches both of them taking an afternoon nap and chastises them for sleeping on the job. After they promise to be more alert at work, Gabe starts talking to them about work matters, but Jim and Pam are still fighting to stay awake.
The mediator tells Dwight he can get out of the baby contract for $30,000. Angela tells Dwight she will make him a deal, he can make love to her five times and test her luck with getting pregnant. If she doesn't get pregnant, the entire deal is off. Dwight agrees to Angela's deal.Andy makes a scene at the baseball game and forces Michael to introduce himself to Shane. After the meeting, Michael feels pretty much like James freaking Bond. After the guys return to the office, everybody is shocked that Michael still seems to have no regrets about sleeping with Donna.
Ryan is admiring this new and improved Michael who takes what he wants and doesn't seem to care about consequences. Ryan approaches Erin and tells her he wants to sleep with her. When Erin asks if Ryan's joking, he admits he is, and acknowledges that he cannot be as brazen as this new Michael.
Michael announces to the disapproving office that he's leaving early to go make love in a dirty motel to his married lover. As he's driving to the motel, he begins to really question his relationship with Donna and turns around. Back at work, he grabs a carton of ice cream and texts Donna, letting her know he can't continue their affair.