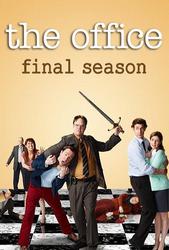 TV Info
---
Episode Premiere
March 25, 2010

Distributor
NBC

Genre
Comedy, Drama

Show Period
2005 - 2013

Production Company
Reveille, Deedle-Dee, NBC Universal


Cast and Crew
---
Director
Matt Sohn
Screenwriter
B. J. Novak
Main Cast
Synopsis
---
The office gets excited about plans to go to happy hour after work. Andy asks Jim to go, but Jim uses Cecelia as the perfect excuse not to join. Until he calls Pam and she is overjoyed at the thought of getting out for a night and socializing.
Pam tells Jim that she's bringing her friend Julie to happy hour to meet Michael. Pam is excited because Julie is laughing at all of Michael's jokes and the two seem to really hit it off over their game of pool.
Pam's cousin Isabel joins the happy hour, too. Dwight immediately spots her and leaves his table with Angela to go mingle. The two playfully joke around with one another as a neglected Angela looks on. When the two walk away, Angela follows. She later reminds Dwight of their legally binding contract to have a baby.
Once Michael realizes that he's being set up by Pam, he goes back to his car and puts on his wardrobe for "Date Mike." Pam and Jim immediately see what is going on and try to reel Michael back in before he messes things up with Julie completely.
Andy and Erin secretly confess they are in a relationship, but they are trying to keep it on the down low. At happy hour, they joke around about how much they should hang out that the co-workers become suspicious. Andy suggests they go their separate ways while in the bar.
Michael begins acting foolish by dancing on the pool table and the owner threatens to have him thrown out. Michael promises the manager he'll behave and she walks away, but he still cannot believe she berated him like that and goes to confront her.
Jim and Pam try to keep Julie entertained as Michael begins to really hit it off with Donna back at the bar. An impatient Julie leaves and Michael sees her walk out and waves goodbye. He realizes he screwed up the date, but then Donna offers Michael a free lunch so the two can discuss managerial skills. "Date Mike" is a success!
Oscar is at the bar, bummed because his warehouse crush, Matt, never showed up. Darryl tells Oscar to chalk it up as Matt's loss because he's a dummy for not even coming out. Just then, Matt appears and invites Oscar to play some bar games.
Andy realizes he has no reason to keep his relationship a secret. He takes the microphone and announces to the bar that he and Erin have gone on two dates and he hopes there will be more. Erin is happy that their relationship is public now.