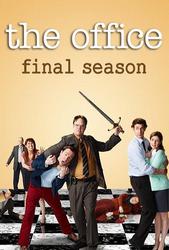 TV Info
---
Episode Premiere
March 18, 2010

Distributor
NBC

Genre
Comedy, Drama

Show Period
2005 - 2013

Production Company
Reveille, Deedle-Dee, NBC Universal


Cast and Crew
---
Director
Brent Forrester
Screenwriter
Brent Forrester
Main Cast
Additional Cast
Synopsis
---
Michael notices a change in the office since Sabre has directed them to focus on sales as their number one priority. Dwight declares that "Sales is King" and he's the "King of Kings." Now the sales team is just focused on money and less about friendships with coworkers.
The sales team waits for their list of new leads from Sabre. Darryl takes Michael aside and says the sales team is getting too out-of-control with their attitudes. When the new leads finally do come in, Michael refuses to give them out, citing the sales team's cocky attitude.
Gabe calls Michael demanding he hand out the new leads. Michael agrees to follow Gabe's orders. Then a defiant Michael hands the new leads out to everybody else but the sales team. The sales team protests Michael's decision.
Angela is taking great joy in making Phyllis work for her list of new leads. Meanwhile, Michael gives Jim a list of clues to follow that will lead him to his list. Michael feels proud of himself for teaching the rest of the sales team a lesson.
The sales team each do what they have to do to get their list of new leads. Michael sends Dwight and Jim on a scavenger hunt in search of their lists. His plan backfires when he throws away the list of new leads and forgets it's trash day.
Michael tries to initiate a field trip to the dump to search for the list of new leads. Everybody refuses but Dwight, who volunteers to go because he knows Michael will screw it up somehow.
Jim finds Kelly and Oscar talking in the break room and is met with a cold shoulder. Kelly points out that if the sales team didn't act like stuck-up losers, maybe the day wouldn't be going so bad. Jim tries to smooth things over by showing new baby photos, but Kelly and Oscar aren't interested.
Michael calls Dwight out for his poor attitude. The Dwight that Michael used to know was never concerned this much with money. The two men get into a heated argument that escalates further when they start throwing trash at one another.
The sales team comes up with the idea of sharing two percent of their commission with the rest of the staff. Everybody meets in the break room where the sales team has laid out treats as part of their peace offering. The non-sales team call a truce when they see how elaborate their food spread is and the sales team keeps quiet about their willingness to share their commission.
Michael and Dwight realize their friendship isn't worth fighting in a dump for. They return to work armed with trash they found at the dump. The rest of the employees easily see that Michael and Dwight have patched things up, despite not finding the list of new leads. Erin and Andy go back to the dump to continue their search and the search ends with a kiss.