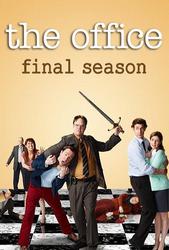 TV Info
---
Episode Premiere
March 04, 2010

Distributor
NBC

Genre
Comedy, Drama

Show Period
2005 - 2013

Production Company
Reveille, Deedle-Dee, NBC Universal


Cast and Crew
---
Director
Seth Gordon, Harold Ramis
Screenwriter
Daniel Chun, Charlie Grandy
Main Cast
Synopsis
---
Pam experiences contractions throughout the day, but refuses to acknowledge she's in labor. She is determined to wait until midnight to check in, so she can have one extra day in the hospital. As Pam's contractions grow closer together, Jim panics.
Michael decides to hold a meeting in the conference room to help take Pam's mind off her pregnancy. Meanwhile, Pam is doing her best to fight off the pain of her contractions. Michael summons the employees to perform their own talent show for Pam.
Dwight realizes he wants a child of his own for business purposes. He asks Angela if she wants in on his plan and the two agree to meet at their secret spot in the warehouse. But, before they can bang it out, they have to agree on a contract--drawn up by Dwight.
Jim starts to become frazzled as Pam's contractions get closer together. He gets discouraged when Pam refuses to leave for the hospital. He is forced to sit in his car, which is where Pam finds him and accidentally lets it slip--they are having a little girl. Jim can't help but smile and feel better.
After Pam's water breaks, she changes out of her clothes and has dinner with Kevin in the break room. As her labor pains get sharper, she begins to panic. Jim, Kevin, and Michael console Pam. With the contractions at two minutes apart, Michael, Jim and Pam hop in the car and rush to the hospital.
Michael gets behind the wheel and drives Pam and Jim to the hospital. Pam freaks out that she doesn't have her iPod to help calm her. Michael calls Dwight, who offers to pick it up. Pam arrives at the hospital, ready for the birth of their daughter. Michael, on the other hand, is busy collecting balloons and freaks out when he walks in on Pam's final pushing.
The employees gather around the waiting room to hear news of Pam's delivery. Michael checks in on Pam's room and hears the sounds of a crying baby and takes it upon himself to light up a cigar to celebrate. Until he's forced to put it out.
Meanwhile, back in the delivery room, new parents Jim and Pam bond with their daughter. Jim heads to the waiting room to tell everybody about Cecelia Marie Halpert. Things get a little awkward when Michael runs into Pam's mother Helene in the delivery room. She leaves after Michael's arrival.
Jim and Pam take the first night to bond with Cecelia in the hospital room. The night is anything but restful as they fight over diapering a fussy baby and Pam has difficulty breastfeeding her. To make matters worse, Jim and Pam are joined by another couple sharing the room, who have no problems when it comes to breastfeeding.
Now that Jim and Pam are married with a baby, Michael is eager for the next office set-up. He thinks Erin and Kevin would be the perfect match. Erin reveals to Michael that her real crush is on Andy, but Michael is too scared of breaking the news to Kevin and plays the sympathy card. Erin agrees to have one lunch with Kevin in the break room.
Pam wakes up in the middle of the night to feed Cecelia and both sheand Jim are happy to realize their baby is now feeding without a problem. They later realize Pam was breastfeeding the wrong baby, and decide to keep that a secret.
Dwight is working hard at getting rid of the mold in Jim and Pam's house before they return home. Meanwhile, Angela is getting ready for her first tryst with Dwight. Dwight begins playing catch-up with Pam's friend Isabel, who has stopped by the Halpert house. The two haven't seen each other since hooking up at Jim and Pam's wedding.
Erin gently breaks it to Kevin: she's not interested. Andy takes it upon himself to create a fax for Erin to send that is really an invite to have dinner with him. When Erin has a hard time faxing the invite, Andy jokingly fires her, but she takes it literally and begins to cry. He comes clean and invites her to dinner in person and she's happy to say yes.
As Jim goes to get the car, Pam tries her hand at breastfeeding again. She's happy to see the nursing is a success. Meanwhile, Michael is back at the office talking about how happy he is to see true love like Jim and Pam's in his office, and he's disappointed that Kevin and Erin didn't generate the same spark.