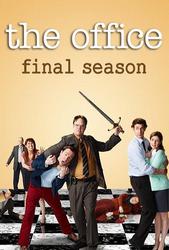 TV Info
---
Episode Premiere
February 11, 2010

Distributor
NBC

Genre
Comedy, Drama

Show Period
2005 - 2013

Production Company
Reveille, Deedle-Dee, NBC Universal


Cast and Crew
---
Director
Marc Webb
Screenwriter
Mindy Kaling
Main Cast
Additional Cast
Synopsis
---
Everyone in the office prepares for Sabre CEO Jo Bennett's visit. She arrives with her two Great Dane dogs and they instantly take a liking to Andy's crotch. Jo likes Dwight's defiance of the rest of the staff, but doesn't like the news that there are two managers, Michael and Jim, doing one person's job.
With Valentines' Day coming up, Andy decides to give Erin a card. But, in order to not reveal how he really feels about her, he decides to give the whole office cards. Erin is touched. Meanwhile, Kelly opens her card and jumps to the conclusion that Andy secretly is crushing on her and tells Erin. Erin begins to think Andy is just a playboy who flirts with all the office ladies and not just her.
With Michael and Jim both waiting on news of who will take over as the sole manager of the branch, Pam points out to Jim that Sabre salesmen have the opportunity to make more money. Jim immediately decides he'd rather take the money than the title. He tells Michael he's ready to surrender the position.
Michael gets wind of Jim's reasoning for stepping down and realizes he's been duped. As Jim is having his meeting with Jo, Michael interrupts and announces he wants to go back into sales. Jo points out that Michael has the most experience in both roles, therefore, he should have final say. Jim is the new solo manager and Michael is the new salesman.
Dwight hears about Jim's new role and plans a secret meeting with Ryan to talk about their next plan. Ryan suggests psychologically torturing Jim. After the two begin bickering, Dwight decides to start his own diabolical plot against Ryan.
Michael is having a hard time giving up his managerial role. He's now sitting with the other salespeople and constantly complaining. It gets worse when Michael acknowledges the terrible smell in the room. The others point out that Phyllis sent an email out earlier about the gassy side effects of her new medication. Michael's had enough.
Andy's clueless as to why Kelly is paying him extra attention. Meredith tells Andy it was because of the romantic card he gave her. Andy swears he randomly selected the cards for everybody in the office. Meredith assures Andy if he gave her a card as romantic as the one he gave Kelly, they'd be doing it in the bathroom instead of talking.
Michael announces to Jim he's ready to be manager again. Jim wants it to be known that he wanted to be salesman this whole time and they should go ask Jo if they can switch roles. A frustrated Jo gives the guys permission for the switch, but tells them to stop getting her involved in any more stupid questions. Michael's just happy to be back in his office, where he can breathe in fresh air again.
Andy sends out a mass email to clarify that all the Valentine's cards he sent out were meant to have the same theme: friendship. Kelly confronts Andy and tells her his email just makes her like him more. Andy declares he has no romantic feelings for Kelly because he might like someone else--and Erin is happy knowing it's her.