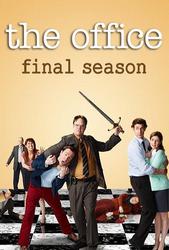 TV Info
---
Episode Premiere
February 04, 2010

Distributor
NBC

Genre
Comedy, Drama

Show Period
2005 - 2013

Production Company
Reveille, Deedle-Dee, NBC Universal


Cast and Crew
---
Director
John Krasinski
Screenwriter
Jennifer Celotta
Main Cast
Synopsis
---
Michael comes into work happy to have a big box from Sabre waiting for him. Sabre being the new corporation that has taken over Dunder Mifflin. After opening up all the fancy electronics in the box, Erin lets Michael know the box really belongs to a guy named Gabe, who works for Sabre.
A representative from Sabre, Gabe, shows up and meets the Scranton branch. Erin and Andy are eager to welcome Gabe with a jingle they wrote about the printer company. After that, the Scranton employees gather around to watch a "Welcome to Sabre" video starring Christian Slater and the company's CEO, Jo Bennett.
After watching the video, Gabe introduces the staff to a few changes to the office while Sabre is running things. One being a firewall installed in the building to restrict questionable websites, as well as tracking time spent on wasteful websites. Michael is not a fan of this and neither is he a fan of the new policy to use Sabre aluminum water bottles.
Jim and Pam research local daycare centers and fall in love with one only four blocks from work. They decide to make an appointment to check it out during their lunch break and instantly fall in love with the center. But, when Jim walks in on the daycare provider in the bathroom, he panics and he and Pam leave as soon as they can.
Gabe has a video call with Jo in the conference room. Michaels sees his moment and tells Jo how he really feels about the changes Sabre is bringing to Dunder Mifflin. Jo is not impressed and tells Michael to rethink how he feels and talk to Gabe at the end of the day. A frustrated Michael decides to take a drive to clear his head.
The daycare manager catches Jim and Pam walking around the lobby and welcomes them inside for their interview. A nervous Jim keeps fidgeting around, making Pam feel uncomfortable. When Jerry runs out to take a call, Pam orders Jim to pull it together and just get through the interview process. Later on, Jerry shows he's not a fan of the couple.
Michael drives straight to David Wallace's house to seek advice on how to handle Jo and Sabre's new rules. The still-unemployed David offers a hot tub dip to Michael where the two men discuss Michael's problems. This turns into David talking about his latest farfetched business ideas. Michael cannot leave fast enough.
Erin is eagerly awaiting Andy's next move with his courtship of her. The only problem is that Andy believes he's done his share and now it's his turn to wait on Erin's next move. Andy continues to drop hints for Erin to ask him out, but she holds out, waiting for Andy to make a move on her.
Michael realizes that working for Sabre really isn't that bad. He returns to the office armed with fresh orange juice, the official drink from Sabre's homeland of Florida, and he proposes a toast. Michael lets everybody know he senses good things from working with Sabre and he has everybody raise their aluminum bottles.