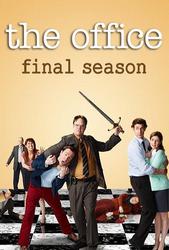 TV Info
---
Episode Premiere
November 19, 2009

Distributor
NBC

Genre
Comedy, Drama

Show Period
2005 - 2013

Production Company
Reveille, Deedle-Dee, NBC Universal


Cast and Crew
---
Director
Charles McDougall
Screenwriter
Justin Spitzer
Main Cast
Synopsis
---
It's Earth Day in the office and Dwight dresses up as his alter ego, Recylops. Jim explains that this character has been around the office for the last five years, but with every new Earth Day, Dwight ups the ante with his costume and a more vengeful attitude.
Michael is feeling more confident than ever, since he was invited to speak at a shareholder's meeting in New York City. He has a whole routine planned out and the branch is there to offer feedback before he leaves, including not twirling on stage, like he had originally planned.
Corporate sends a limousine to pick up Michael and take him to New York. Michael invites Oscar, Andy, and Dwight along for the ride, after Jim, Pam, and Ryan decline. On the way to the shareholder's meeting, Andy and Dwight prepare Michael with questions he might be asked while on stage.
Michael joins the rest of the Dunder Mifflin executives speaking at the meeting. They walk up on stage and are greeted with loud jeers. Oscar, Dwight and Andy realize that there is nothing fun about this meeting. Michael accidentally says the word "bankrupt" into the microphone and the audience grows angrier.
With Michael gone, Jim is having a hard time with a staff that questions his authority. Jim discovers Ryan has sent an email to everybody stating Jim doesn't have as much power as Michael. Jim is furious over everybody's laissez faire attitude towards his title, but nobody seems to care.
Michael speaks up and addresses the angry audience. He makes matters worse by saying Dunder Mifflin is so nice they paid for his hotel suite, free food, and stretch limousine to pick him up. The executives all hang their heads, wishing Michael would just stop talking. The audience shouts out that the entire company is corrupt.
Jim realizes he has to confront Ryan about his lack of respect while at work. Pam has her doubts about how Jim will come across when disciplining Ryan, but Jim wants to prove her wrong. He moves Ryan's new office into the coat closet and makes sure everybody else in the office witnesses the move, as well.
Michael takes control of the shareholder's meeting and promises the audience that they will get answers to all their questions. Fueled by their applause, Michael continues his speech, making financial promises to the audience that Dunder Mifflin cannot meet. The rest of the speakers at the meeting are furious with Michael.
Michael tells the executives that his accountant, Oscar, will have all the answers and calls him to their suite. Oscar freezes under pressure and Michael takes him into the hall for a pep talk. Oscar is angry over Michael's unplanned set-up and leaves. After Michael yells at all the executives, he takes Oscar, Andy and Dwight and they split in the limo back to Scranton.