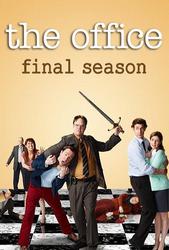 TV Info
---
Episode Premiere
November 12, 2009

Distributor
NBC

Genre
Comedy, Drama

Show Period
2005 - 2013

Production Company
Reveille, Deedle-Dee, NBC Universal


Cast and Crew
---
Director
Greg Daniels
Screenwriter
Daniel Chun
Main Cast
Synopsis
---
Dwight asks Michael questions about David Wallace's all-staff email. With the mention of a recent Wall Street Journal article in the email, Oscar finds the article online and reads it to the rest of the Scranton branch. Everybody panics when the article states that Dunder Mifflin is rumored to be declaring bankruptcy.
All the staff are talking about the possible closing of Dunder Mifflin. Kelly ponders if this is everybody's last day in the office. Andy finally admits to himself he likes Erin and he's bummed that she never asked him out. Now, Andy is thinking it's time to take matters into his own hands.
As Jim is trying to assess the rumors about everybody losing their jobs, Michael wants to try a different approach. He brings out a classic murder mystery board game and thinks it's best to distract the employees. Jim tells Michael that he's not a fan of this idea.
The employees all receive their assigned characters for the murder mystery game and most of them really get into their assigned roles. Michael relishes the thought that his idea is working and his employees are actually having fun.
Andy finally gets the nerve to ask Erin out on a date, but later worries that when she accepted, she was acting in character, as a very loose Southern woman. Oscar barges in on the game and says Corporate just emailed him saying all accountants must stop payment to vendors. Michael continues to play in character, but Jim orders everybody back to work.
Now that everybody is back to work, Andy brings up his weekend date with Erin. She continues to stay in character and Andy plays it off -- he only asked Erin out on a date in character, not real life, and walks away disappointed. Later, while alone, Erin admits she is bummed she's not going a real date with Andy, too.
Jim assures Pam that they are going to survive whatever happens to Dunder Mifflin. Later, Jim lashes out at Michael for continuing to play his murder mystery game instead of addressing the real problems. They are interrupted by a call from David, who tells Jim that the company is headed for serious financial trouble.
After Jim's grim phone conversation with David, he walks out of his office and sees all the faces of his worried employees. When Pam wants to know what's going on with the company, Jim tells everybody it's still uncertain, but then takes a cue from Michael and livens things up by announcing another round of murder mystery to play.