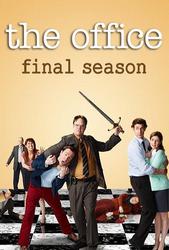 TV Info
---
Episode Premiere
March 26, 2009

Distributor
NBC

Genre
Comedy, Drama

Show Period
2005 - 2013

Production Company
Reveille, Deedle-Dee, NBC Universal


Cast and Crew
---
Director
Paul Lieberstein
Screenwriter
Aaron Shure
Main Cast
Additional Cast
Synopsis
---
Michael lets his staff know he's given Dunder Mifflin two weeks notice. Now, Michael is free to act however he wants around the office, because he's leaving already. This includes drinking scotch, pestering his co-workers even more than usual, and, he's not even going to worry about calories anymore.
Kevin wants to know when the new printer is going to arrive. An impatient Pam just tells Kevin "soon." The truth is that the new printer has arrived, but it's in pieces. It's going to take Pam a long time to figure out how to put the new printer together, until Dwight steps in and offers to help.
Michael is beginning to realize it's not as easy to find another job as he had thought. Especially when all of his contacts are facing tough economic times. Pam wants to encourage Michael to really think about the career move he's just made. Michael tells Pam he's living his dream.
Charles is still setting up shop in Scranton until Michael's replacement is hired. In the meantime, Angela and Kelly are both vying for the handsome vice president's attention. Charles is not at all surprised. After all, he already knows the effect his good looks have on women.
Michael has decided to branch out and start his own paper company. His only problem now is trying to recruit his former employees to join him. So far, each one has a reasonable excuse for turning him down. But Michael's resilient, pointing out that he had a great time at prom when he was younger and nobody said "yes" to him on that, either.
After Charles discovers Michael's plan to launch Michael Scott Paper Company, he tells Michael he needs leave the premises immediately. Michael delivers his final farewell speech in the parking lot, but the staff cannot hear him through the windows. They watch Michael drive away from Dunder Mifflin for good, or so they think.
Michael sneaks back into the building, determined to recruit some of his old employees. Also determined to stay hidden from Charles, he craws around on his belly from desk to desk pleading for people to join him. Meanwhile, Charles is busy trying to hunt down Michael's old client list, the same list that Michael has stolen for himself.
Michael gets caught by Charles and gives back his client list. He's done and he's ready to move on beyond Dunder Mifflin. Pam runs after him in the parking lot as Jim follows. She tells Michael she's ready to join Michael Scott Paper Company, only if Michael will make her a salesperson. Michael has just recruited his first employee, to Jim's shock.