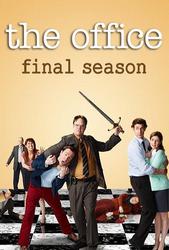 TV Info
---
Episode Premiere
December 11, 2008

Distributor
NBC

Genre
Comedy, Drama

Show Period
2005 - 2013

Production Company
Reveille, Deedle-Dee, NBC Universal


Cast and Crew
---
Director
Paul Feig
Screenwriter
Justin Spitzer
Main Cast
Additional Cast
Synopsis
---
Dwight is surprised, suspicious, and unimpressed that Jim has wrapped his entire workstation in holiday paper: the chair, the desk, the tools on his desk. With a sneer, Dwight drops his briefcase on the desk and plops into his chair, only to tumble to the ground as his entire desk and chair collapse underneath him. Jim has apparently replaced Dwight's desk with a cardboard replica and wrapped the whole thing.
Phyllis has picked an inspired theme for the office's holiday party: Nights in Morocco. As the new head of the party planning committee, she's eager to show up Angela, the ousted chairman. As she hands out fezzes to everyone, Phyllis spots a nativity scene at Angela's desk. "They're off-theme," she's happy to tell her. When Angela protests, Phyllis announces that the camel, sheep, and North African king can stay but everything else must be hidden in a drawer.
Phyllis is feeling especially powerful -- she's armed with the knowledge that Angela continues to have an affair with Dwight, despite being engaged to Andy. She denies that it's blackmail. For that, she says, "It would have to be a formal letter." She gleefully starts bossing Angela around with party tasks, such as moving the office Christmas tree.
Dwight has cornered the market on the holidays' hottest gift: Princess Unicorn. While he's personally disgusted at the improbability of a doll that's half-human and half unicorn, he excited about the money he's about to make. As he does each year, Dwight has researched the demand, bought out the stock from local stores, and is gleefully waiting for the stream of desperate parents who will show up, willing to pay anything to get one.
The party is underway. Mixmaster Michael pours Meredith a drink he calls the "One of Everything." It's equal parts scotch, absinthe, rum, gin, vermouth, triple sec, and two packs of Splenda. Meredith loves it and asks for another. Michael offers Jim another drink of his own creation: vodka mixed with orange juice. "I call it an orange vod-juice-ka."
As the party rolls, Andy picks out some holiday tunes on the sitar, Michael keeps the drinks flowing, Dwight pockets $200 from his first doll customer, and a very merry Meredith is belly-dancing all over the conference room. But her booze-fueled revelry takes her too close to some decorative candles -- and her hair catches fire! Dwight puts her out with a fire extinguisher before the blaze can cause any real damage.
Michael recognizes that Meredith's drinking has gotten out of hand and organizes an intervention. An intervention, he explains, is "a surprise party for people who have addictions." The staff gathers around to confront her, but she's having none of it. She does admit to an addiction to pornography, which repulses her co-workers. Michael presses on.
Michael uses a questionnaire (apparently from a Mormon Church website) to help Meredith understand that she is an alcoholic, but she still resists. Michael then asks her co-workers to explain how Meredith's drinking bothers them, but no one really can. Dwight is dismayed, explaining that the Shrute family style of intervention involves five tenets: awareness, education, control, acceptance, and punching. Toby declares the intervention over. But Michael is insistent on helping her and, under pretext of heading to a bar, takes Meredith to a rehab center, where he learns that you can't drag someone kicking and screaming to be admitted against her will.
On the phone, Toby excitedly tells his young daughter that he's going to get her a Princess Unicorn doll for Christmas. He's thrilled to be showing up his ex-wife and to "be a hero for once" to his daughter. The only problem is that Dwight has sold the last of his dolls to Darryl. Distraught, Toby begs Darryl for the doll. He sells it to him for $400. Seeing that the doll is black, Toby is taken aback, then nervously explains to Daryl that "it's even better than the one I wanted."
The remaining office-mates do their best to continue the party, mingling together, as Andy sits by himself in the break room noodling out tunes on the sitar. Phyllis continues to boss around Angela, who's finally had enough. She calls Phyllis's bluff -- convinced she'll never really tell the group about her ongoing relationship with Dwight. But Angela's quite wrong. Phyllis blurts out the truth, though Andy is out of earshot. The news lands with a gasp, though Dwight wears a proud smirk. As Andy emerges and plays his own sitar-infused version of "Deck the Halls" for the group, he's met with a stony, stunned reaction -- they're all still shocked by the recent revelation. "Tough room," Andy exclaims as he and Angela head home.