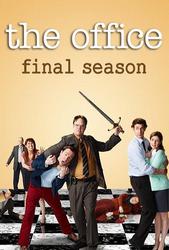 TV Info
---
Episode Premiere
November 20, 2008

Distributor
NBC

Genre
Comedy, Drama

Show Period
2005 - 2013

Production Company
Reveille, Deedle-Dee, NBC Universal


Cast and Crew
---
Director
Sharon Haithcock
Screenwriter
Jennifer Celotta
Main Cast
Additional Cast
Patrick Faucette
Michael Harrity
Synopsis
---
Michael finds out that Toby is back and working at the Scranton branch and not happy about it at all. He immediately places a call to David Wallace, who tells Michael there is nothing he can do. In fact, David is more shocked that Michael has just found out about Toby's return, since he's been there for a week.
Jim is excited because he just purchased his childhood home for him and Pam to live in. Kevin points out that Jim is buying the house where he used to pee the bed. Jim never thought of it that way. But, he can't wait to fix the house up and make it his and Pam's very own. He made the rest of his co-workers swear they wouldn't tell Pam about the purchase..
Michael does his best to try to be Toby's friend, but his plan fails. While trying to talk to Toby about Costa Rica, Michael's hate for him shines through and he can't control himself. He walks out of Toby's workspace and heads back to his office. He admits he tried to be friends with Toby, but compares it to trying to be friends with an evil snail..
Michael is determined to get Toby fired. Dwight points out that people can be fired for sexual harassment, so they decide to use an unwilling Pam as bait. Michael gives Pam a note to give to Toby. Pam reads the note, which instructs Toby to hug and kiss Pam. She immediately throws it away. Michael's next plan is to try to coax Toby into a physical fight. Toby refuses to fall for Michael's trap.
Dwight informs Michael that there is one more action they can take, and that is to frame Toby. Michael goes to some delivery guys who work in the building, who sell him a bag of weed for $500. Michael plants the bag in Toby's desk and Dwight places a call to the cops and they arrive. Dwight leads them to Toby's workspace.
Toby cannot believe his desk is being searched and the cops find the suspicious bag that Michael had purchased earlier. The bag is filled with all the makings of a Caprese salad. The cops disappointingly leave the scene and Michael is left holding a bag of salad he paid $500 for. Michael blames Toby for his plan falling apart. He also blames Toby for making a liar out of him, because he told everybody that Toby was never coming back.
Kelly and Ryan are busy making out in the back of the annex, where both of them sit now. Ryan breaks away and tells Kelly that he can't continue to see her. She reminds him she broke up with Darryl to be with him, but Ryan warns her to not put that blame on him. Ryan continues to tell Kelly he is planning a trip to Thailand. Kelly agrees to have sex with him one more time before his trip.
After Pam has a rough day at work, Jim asks her if they can make a pit-stop on their way home. He takes her to their new house. She is surprised that Jim bought his parent's house and he gives her a tour and shows her all the remodeling he plans on doing. He also shows her the garage that he wants to convert into Pam's very own art studio. Jim is nervous when Pam is speechless. But, then she tells him she loves the idea and plants a big kiss on him.