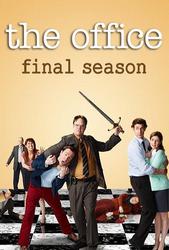 TV Info
---
Episode Premiere
October 25, 2007

Distributor
NBC

Genre
Comedy, Drama

Show Period
2005 - 2013

Production Company
Reveille, Deedle-Dee, NBC Universal


Cast and Crew
---
Director
Jason Reitman
Screenwriter
B.J. Novak
Main Cast
Additional Cast
Virginia Newcomb
Drew Powell
Synopsis
---
Michael was excited to know Dunder Mifflin bought television ad space in local markets, including Scranton. Michael wanted to create the perfect commercial. Only problem was Michael wasn't seeing eye to eye with guys who were going to be producing the commercial.
Andy was becoming frustrated with his slow progress with Angela. He went to Dwight for advice on how to get to first base. Dwight felt uncomfortable about the whole conversation.
Michael was so fed up with being kept in a creative box that he fired the producers and wanted to handle everything on his own. He promised the final product was going to be great and that was how he sealed his own destiny...in a good way.
Michael was taking over the commercial. He wanted his staff to be part of it. He had three scenes to be filled and a big music number. Kelly was in charge of make-up, Oscar was the obvious choice for costume design and Phyllis was in charge of finding local Scranton celebrities.
Jim discovered Dwight was consuming his time with a virtual reality game. So, Jim created his own character for Dwight's game. Pam got a kick out of Jim's character as a sports writer, with a muscular physique and a guitar strapped to his back. An embarrassed Jim went back to his desk.
Phyllis rushed to the mall to see if Sue Grafton would be in their commercial after her book signing. When she said no, Phyllis kept asking until security threw her out in front of all her friends. Michael was more disappointed that Sue Grafton wasn't going to do the commercial.
Pam was working hard on creating the perfect logo for the commercial. Jim wanted to know if she needed any help but she let him know she was working late. Which made Jim have to get a ride home from Meredith. Meanwhile, Pam stayed the night working.
Andy had finally made physical progress with Angela and couldn't wait to share with Dwight. Andy said Angela called out "Oh, D" during their time together. Of course, Andy thought the "D" stood for Andy. Dwight took pleasure in knowing he was still on Angela's mind.
Michael sent Corporate his final presentation for a commercial and ten days later he found out it was rejected. So, he joined the rest of his staff at Poor Richard's Pub to watch the approved ad air. The staff all toasted when they appeared on television.
Jim had the bar play Michael's rejected commercial. The entire staff was impressed with the final product and Pam's logo in the end played off very well. Michael was proud of the reaction and bought the bar a round of drinks.