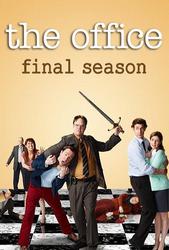 TV Info
---
Episode Premiere
October 11, 2007

Distributor
NBC

Genre
Comedy, Drama

Show Period
2005 - 2013

Production Company
Reveille, Deedle-Dee, NBC Universal


Cast and Crew
---
Director
Ken Whittingham
Screenwriter
Jennifer Celotta
Main Cast
Additional Cast
Brad Graiff
Nick Armstrong
Scott Damian
Synopsis
---
Meredith was back to work and singled out Jim as the one to thank the most for coming to visit her in the hospital. She also gave Jim the first opportunity to sign her cast around her pelvic region. Jim had no idea how to react.
A cocky Michael was heading to New York for the launch party of Dunder Mifflin Infinity. Dwight was upset over the website being called the best salesman in the company and Kelly was more concerned for Michael to find out if Ryan was seeing anybody.
Dwight was willing to challenge the website to see who would sell more paper. Andy agreed to keep score. Meanwhile, Angela was trying to plan a Scranton launch party. The rest of the office played witness to Dwight and Angela's spreading misery over their break-up.
Michael and his tight shirt were ready to leave for New York. Jan was refusing to go, since she would face all the employees who ousted her from her job. Michael thought about inviting his ex, Carol, in which angered Jan more.
Pam and Jim had fun with Dwight and his fight against the computer. They begin sending Dwight messages in order to fool him into thinking his nemesis, the computer, was communicating with him.
Dwight lost his temper when he discovered Kelly was ordering paper from the website. Darryl delivered Kelly the ordered paper and also took the time to flirt with Kelly. Meanwhile, a desperate Dwight took out his old Staples connections in order to increase his paper sales.
Michael chose Jim to come along with him to the VIP launch party in New York since Jan declined. On the way up, Michael purposed they double date with Pam and Jan. Jim tried to find excuses to get out of it. Later on, Michael became furious to discover he really wasn't invited to the VIP party.
Angela was up to her ears in party planning. Michael wanted to plan the launch party of all launch parties and Phyllis had quit Angela's committee. Meanwhile, Michael was arguing with the pizza delivery guy over his discount. Michael took his anger for Ryan out on the delivery guy.
Jim and Pam managed to sneak a pizza outside on the roof and talked about earlier times. Both shared stories of when the realized they liked each other. Back inside, Ryan had set up web cams for all the branches to say hi to one another. Michael's message came across as bitter and vindictive.
Michael was beginning to freak out because Dwight was holding the pizza delivery guy hostage until they received their discount. With fear of cops coming, Michael had Dwight give the pizza guy money and set him free.
Andy was determined to get Angela to go on a date with him. He pulled out all the stops, including his singing "Take a Chance on Me" with back-up singers accompanying him on speakerphone. Angela was enjoying the performance. But, never accepted a date with Andy.
Dwight and Michael rehashed what a terrible day that had just had. Michael and Dwight decided to crash the party in New York. When they arrived, they stole the sushi plates and realized some employees looked at Michael as a hero for making Ryan look like a fool on the web cam.