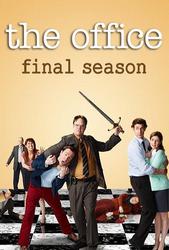 TV Info
---
Episode Premiere
February 09, 2006

Distributor
NBC

Genre
Comedy, Drama

Show Period
2005 - 2013

Production Company
Reveille, Deedle-Dee, NBC Universal


Cast and Crew
---
Director
Greg Daniels
Screenwriter
Michael Schur
Main Cast
Additional Cast
Dan Cole
Gene Stupnitsky
Craig Anton
Synopsis
---
It's Valentine's Day at the office and Pam looks forward to it because everyone gives cards. She made Roy promise to not get anything too big, though, because of plans for the wedding.
Michael is leaving for New York and Dwight wants to know if he's seeing Jan because it's Valentine's Day. Michael says it's a business trip and they shouldn't talk about what happened between them - but it is still Valentine's Day.
Jim doesn't have to worry about Valentine's Day because he broke up with Katie. He plans on inviting friends over and having a poker game instead.
Dwight has a package on his desk and is immediately suspicious of what it is. He opens it to find a bobble head Dwight. Angela clearly gave it to him and he's psyched.
Jim talks to Kelly in the kitchen. She tells him that she and Ryan hooked up and she wants to be his girlfriend. Jim knows this is heading for disaster.
Ryan is kicking himself for hooking up with Kelly on February 13th.
Michael gives a tour of New York, but he clearly doesn't know what he's talking about. The subway, Rockefeller Center, Sbarro... he thinks he spots Tina Fey from Saturday Night Live and then misses Conan O'Brian walking by.
All the women in the office get jealous of Phyllis when her man, Bob, sends her tons of flowers and an enormous teddy bear.
Dwight tells Angela that he received the best Valentine's Day present ever and he tells her that she'll be receiving the best Valentine's Day gift before the day is over. He clearly forgot. He asks Pam for advice on what to get his "girlfriend" for Valentine's Day. She says the gift is sometimes more about the gesture than the thing itself.
Michael feels a lot of pressure before his presentation to corporate. He hobnobs with the other managers before they go in for the presentation. They talk about Jan and Michael says she's his girlfriend. The other managers press him and he admits they only hooked up once.
Kelly asks Ryan if he wants to hang out that night, but he says he has plans with his friends. She's dismayed and talks Jim's ear off all day about it. Jim finally levels with her and says Ryan isn't that into it and she needs to suck it up. He then invites her to his poker game that night.
Jan and the new CEO come down to the conference room, and she says she's nervous because Michael is an idiot - and it reflects on her. Michael's presentation is a video of the office, set to a U2 song. He highlights all the employees from the office and it has nothing to do with what the CEO is looking for.
The CEO tells Michael that the video was great but he wants to know about the branch's performance instead. Michael is upset that he has to simply pass out financial numbers. One of the other managers didn't bring any financials, and then blurts out that he should've slept with Jan also. Jan is afraid she's going to get fired. Michael says he'll fix it and talk to the CEO.
Dwight leaves a house key on Angela's desk. She's thrilled with her present.
Roy visits Pam at her desk and she says she's disappointed that he didn't get her anything.
Michael tells the CEO that he was making a joke and says that Jan is a terrific executive and has all the integrity in the world. The CEO buys it. She thanks him by the elevator and then kisses him on the lips - "Happy Valentine's Day."