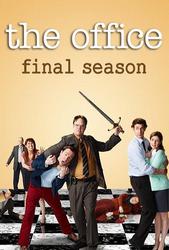 TV Info
---
Episode Premiere
February 02, 2006

Distributor
NBC

Genre
Comedy, Drama

Show Period
2005 - 2013

Production Company
Reveille, Deedle-Dee, NBC Universal


Cast and Crew
---
Director
Dennie Gordon
Screenwriter
B.J. Novak
Main Cast
Additional Cast
Synopsis
---
Jan comes to the office to talk to all the women about their roles in the workplace. Michael tries to interrupt even though Jan told him five different times to stay out. She says as his boss, he needs to leave - it's for women only.
Michael hates the idea of women talking on their own without him being involved, so he decides to bring all the boys together for a "guys in the workplace" seminar to combat the women's. Michael brings the boys to the warehouse to find out how the warehouse works.
Michael introduces all the warehouse staff. Kevin takes Jim aside and tells him that Roy probably heard about him liking Pam but he has his back if anything goes down. The warehouse guys are incredibly annoyed that they're not going to get their shipping done in time.
Jan asks all the women to say what they're good at and Angela belittles Phyllis. Pam says she doesn't really fit in with any of the women. She mentions that she really likes drawing but hasn't done much since college. Jan tells Pam that there's a graphic design course on the weekends that the company can help her out with if she's interested.
Roy tells Jim they're cool - he knows Jim doesn't have a crush on Pam anymore. Michael operates a forklift and knocks rows and rows of packages over. The warehouse guys are livid. Michael brings them all together in a circle and wants to know, as men, what's their beef? The warehouse guys realize that they work a lot harder than Michael and his team, but they get paid a lot less. As a result of this little session, the warehouse guys decide to unionize. Michael doesn't know what he's gotten himself into.
Jan tells the girls to dress for the job they want, not the job they have. Angela says she's not gaining anything from the seminar. Jan also says there's an issue of inequality of pay between men and women.
Michael tells Jan about the possibility of the warehouse guys forming a union. She yells at him to take care of the problem. Back downstairs, Michael takes all the warehouse foam and dumps it in the fan to create "winter."
The girls ask Jan about her personal life. She gets uncomfortable and checks on Michael in the warehouse. Jan tells the warehouse guys that if they unionize they're all going to lose their jobs, and if they have any questions, to direct them to Michael.
Pam tells Roy about the graphic design opportunity and he clearly is not in favor of the idea. Jim tells her that she has to take a chance on something sometimes. She gets defensive and says she's fine with her choices.
Michael continues messing with the forklift and basically destroys the entire warehouse. He buys pizza for everyone to ease the pain of the mess. Michael says in order to run an office, you need men and women because you need to have crazy sexual tension to keep things interesting.