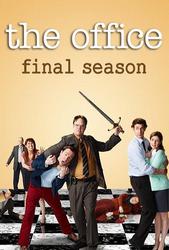 TV Info
---
Episode Premiere
November 08, 2005

Distributor
NBC

Genre
Comedy, Drama

Show Period
2005 - 2013

Production Company
Reveille, Deedle-Dee, NBC Universal


Cast and Crew
---
Director
Greg Daniels
Screenwriter
Paul Lieberstein
Main Cast
Additional Cast
Allyson Everitt
Tim Meadows
Synopsis
---
Michael and Jan are set to attend a meeting with a big client for the company. Michael tells Jan that he changed their plans and arranged for them to meet at Chili's instead of the Radisson Hotel. Chili's is "the new golf course."
The rest of the office discusses their worst first dates and Pam reveals her first date with her fiance. He took her to a high school hockey game with his brother and forgot her when she went to the bathroom.
Michael and Jan arrive at Chili's and meet Christian (Tim Meadows). Michael quickly learns that Jan is no longer married when she says her name is no longer hyphenated. Jan starts the meeting and Michael, immediately bored, suggests food and drinks from the menu. He also decides to lighten the mood by telling some jokes. Jan is horrified and thinks Michael is blowing the meeting.
Pam looks for joke books in Michael's desk so she can help him impress the client. While looking in his drawer, she discovers a screenplay that Michael wrote, starring himself. Jim immediately organizes a table read with the whole office and assigns parts.
A few drinks in, Jan decides to turn back to business. But Michael orders ribs instead. He and Christian hit it off as Jan proceeds to get drunk, thinking they've already blown the deal.
Dwight gets the lead part of Agent Michael Scarn in the table read. He says he has previous acting experience. In the script, Michael's sidekick was originally named Dwight but the name's been changed to Samuel L. Chang. Dwight is devastated when he discovers this and leaves to set off fireworks that he brought to work.
Back at Chili's, Michael tells Christian about how he grew up in the county and knows everything about it. Christian decides to give them their business, and Jan finally smiles, thrilled that Michael pulled it off. They send Christian off, and start making out in the parking lot. They wind up spending the night together.
Jim and Pam go up on the roof of the building to watch Dwight set off fireworks. Jim's even made grilled cheese sandwiches.
Michael comes into the office the following day and says nothing happened between him and Jan. He simply doesn't want to get into it' until he admits they went back to her hotel. Dwight barges into his office and asks if Michael "did" her.
All the office is abuzz about Jan and Michael. Jan calls in and tells Michael that it was a big mistake. Michael is devastated and is left trying desperately to salvage the romance.