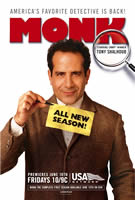 TV Info
---
Episode Premiere
August 07, 2009

Distributor
USA Cable Network

Genre
Drama, Comedy

Show Period
2002 - 2009

Production Company
Mandeville Films, ABC, NBC, UMS


Cast and Crew
---
Director
Randall Zisk
Screenwriter
Jack Bernstein
Main Cast
Additional Cast
Rena Sofer
Sarah Aldrich
Gary Weeks
Taylor Longbrake
Synopsis
---
A tell-all book by actress Christine Rapp has just been published, and Monk is first in line at a local bookstore where she is scheduled to appear. As a child, Christine starred in The Cooper Clan, which was Monk's favorite show when he was growing up. Unfortunately for Monk, Christine won't be showing up for her appearance, as across town, her car has exploded in an apparent attempt on her life.
Monk arrives at the scene of the car bombing to investigate. Monk is thrilled to meet Christine, who is scared to death. Christine's publicist explains that Christine has been receiving threatening letters ever since she started writing her book. Concerned for Christine's life, the publicist asks Monk if he would serve as Christine's bodyguard, and Monk quickly agrees.
Monk goes to Christine's house, where he seems more interested in rehashing old episodes of The Cooper Clan than being a bodyguard. Things get serious, however, when Christine finds another threatening note scrawled in lipstick on her bathroom mirro.
The case appears to resolve itself when Christine, while staying at a motel under an assumed name, kills an apparent stalker named Victor Timlinson. But Monk soon makes a realization while watching young Christine sign a cast in an old episode of The Cooper Clan. Christine's handwriting matches the writing in the threatening letters she received. Christine wrote the letters to herself; the threats on her life were all a ruse so she could kill Timlinson and claim it was in self-defense.
But why did she want to kill Timlinson? Monk and Natalie go to Timlinson's apartment to investigate. Monk finds some old ballots from a Hollywood awards show, and is about to explain everything when he's hit on the head and knocked out cold by Christine. While unconscious, Monk imagines himself to be on the set of The Cooper Clan, where he gives his summation as a member of his favorite T.V. family. Monk explains how thirty-five years ago, after The Cooper Clan was over and Christine's career was on the downswing, Christine arranged for Timlinson, who worked at an accounting firm that handled awards show balloting, to rig the voting in her favor. Years went by without a hitch, until Christine's big book deal was announced. Timlinson tried to shake down Christine, and Christine decided to kill Timlinson rather than pay him.
Monk regains consciousness in time to save Natalie, who has been struggling with Christine while Monk was unconscious. In the end, Monk solved the case, but the fond memories of his favorite show are forever tarnished by Christine's crimes and the sordid revelations in her book.