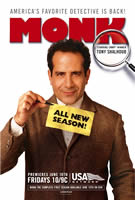 TV Info
---
Episode Premiere
January 25, 2008

Distributor
USA Cable Network

Genre
Drama, Comedy

Show Period
2002 - 2009

Production Company
Mandeville Films, ABC, NBC, UMS


Cast and Crew
---
Director
David Breckman
Screenwriter
Joe Toplyn, Tom Scharpling
Main Cast
Additional Cast
Delle Bolton
Jonny Lee
Lyman Ward
Jonathan Terry
Michael Chandler
Synopsis
---
While Monk and Natalie are waiting outside a crime scene, they happen to overhear a call on the police radio mentioning a homicide. The victim's name? Julie Teeger. Natalie, understandably terrified to hear her daughter's name, hops into Captain Stottlemeyer's brand new car and speeds off to the scene of the crime. The victim doesn't turn out to be Natalie's daughter, which is good news for Natalie, though not for the dead Julie Teeger's distraught husband, to whom Stottlemeyer makes a promise that he'll track down the killer. But just as Monk is in the middle of examining the crime scene, the police hear another call about a dead bicyclist. The second victim's name? Julie Teeger! This death appears at first to be a hit-and-run accident, but once Monk takes a closer look, he realizes something bizarre is going on: someone in San Francisco is killing Julie Teegers.
Natalie and the police soon track down their Julie Teeger, who is alive and well and in the middle of a driving lesson in preparation for her driver's test the next day. With Julie safe under police watch, Stottlemeyer, Disher and Monk follow a lead that takes them to the home of Julia Teeger and her son, Matthew. Matthew Teeger, who suffers from mental illness and has a history of violence, is considered a prime suspect. Matthew is nowhere to be seen at the Teeger home, but Monk does uncover a nasty surprise; the late Julia Teeger, dead but preserved through the handiwork of her son, an amateur taxidermist. Through the undercover work of Lieutenant Disher, the police manage to apprehend Matthew Teeger, and Julie is relieved to hear that the ordeal is over and she is free to go to her driver's test. But while she is gone, Matthew Teeger escapes from police custody, and a frantic search for him begins.
Meanwhile, Monk is examining the home of the second victim, Julie Teeger the bicyclist. He notices a number of packages and one yellow box fragment, which he determines Julie must have received on the day she died. Just then he and Disher hear the news that Matthew Teeger has escaped, and rush to meet Stottlemeyer and Natalie at the DMV, where Julie is in the middle of her test. Matthew Teeger is chasing after her, but just as a police sharpshooter fires, Monk intervenes. Teeger isn't the guy, Monk announces. In fact, Matthew was just trying to give Julie his lucky rabbit's foot.
But if Matthew Teeger isn't the guy, who is? It turns out Monk has cracked the case, and it all has to do with a yellow package he remembers seeing at the first victim's house. He leads Stottlemeyer and Disher back there, where they confront her husband, and Monk gives his summation. George Teeger was having an affair, and after a bitter fight his mistress decided to send a box of his belongings and an explanatory note to his wife. But the box accidentally ended up being delivered to another Julie Teeger (the second victim), a mix-up that apparently happened regularly. The second Julie delivered the box to its intended recipient, and when the first Julie Teeger confronted her husband about the contents of the box, he killed her. Then, to cover up the murder, he tracked down and killed the other Julie Teeger, who had witnessed the fight.
With the real killer finally in custody, Natalie's daughter is safe. At least, she seems to be safe from a serial killer. But Julie does manage to pass her driver's test, which means Natalie has plenty left to be afraid of!