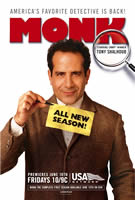 TV Info
---
Episode Premiere
March 03, 2006

Distributor
USA Cable Network

Genre
Drama, Comedy

Show Period
2002 - 2009

Production Company
Mandeville Films, ABC, NBC, UMS


Cast and Crew
---
Director
Randall Zisk
Screenwriter
Joe Toplyn, David Breckman
Main Cast
Additional Cast
Willow Duke
Diane Boehm Himmich
Albert Malafronte
Brandon Matthew Parker
Erica Zodtner
Synopsis
---
Civilian test pilot Steve Wagner is a national hero, a man destined to run for political office. But not everyone admires him.
His old flame, Joanne Raphelson, is about to publish a tell-all book that details the abuse she endured during their relationship. Wagner can't let Joanne's story get out, so he pays her a visit. He makes her one of his signature drinks, a "Spacewalk," and adds a little something extra: a powerful dose of barbiturates. Joanne is knocked unconscious. When her housekeeper arrives the following week, she finds Joanne hanging from the ceiling with a noose around her neck.
Captain Stottlemeyer, Lieutenant Disher, Monk and Natalie go to Joanne's house to investigate. According to the coroner, Joanne has been dead for five days. It appears to be suicide, but the captain spots some clues that point to more. Then Monk notices something: the height of the stool and the length of the rope from which Joanne hung herself don't add up for a person of her height. Joanne Raphelson was murdered.
When Steve Wanger's number shows up in Joanne's phone records, the gang goes to Wagner's home to investigate. Wagner openly admits that he and Joanne used to date, and that she would often call him when she was depressed.
When Wagner introduces his wife, Monk notices that she is holding one of Wagner's unique "Spacewalk" drinks. Monk remembers seeing the remnants of the same drink at the crime scene. Monk knows Wagner did it, but there's a problem. Wagner is a national hero, and he has a great alibi: he was in outer space at the time of the murder!
Monk and Natalie return to Joanne's house to look for more clues. Monk notices that Joanne collected dolls, but there's a blank spot where a doll should be. He also notices four holes drilled into one of the walls. Then, while they're still looking around, they catch Wagner snooping around outside. They know he's looking for something ... but what?
Meanwhile, across the street, Darrel Cain, Joanne's next-door neighbor, spots Wagner. When Cain and his family approach to say hello, Wagner notices that Cain's young daughter, Donna, is holding a doll, and Wagner immediately invites the whole Cain family to see him test a new jet fighter at a nearby air base. Monk and Natalie pressure Wagner into letting them come along.
As Wagner and the Cain family walk around the base, garage doors open everywhere they go. Interestingly, Cain's garage door has also been on the fritz. And with that, Monk solves the case!
Here's what happened: the night before he took off on his previous space mission, Steve Wagner drugged Joanne Raphelson, put a noose around her neck, installed a garage door opener in her house, then attached the noose to the garage door opener. Then, he taped down the button of the garage door opener's remote control, hid it in one of her dolls, and mailed the doll to her house by second-day mail.
When the package arrived two days later, AFTER Wagner had gone into space, the remote activated the garage door opener, and a still-unconscious Joanne Raphelson was hanged. When Wagner's mission ended at the end of the week, he went back to her house and dismantled the machine, but the package with the doll was missing from the porch (Darrel Cain had stolen it).
That doll was the most incriminating piece of evidence - it had his fingerprints all over it - and as soon as he saw Donna Cain with it, he had to get it back. Of course, the garage door remote control in Donna's doll explained all the garage doors opening everywhere she went.
Unfortunately, Wagner has taken Donna's doll and is already on his way to his test flight, where he can easily dispose of the evidence. But Monk won't let Wagner get away. As Wagner taxis down the runway in his fighter, Monk courageously runs onto the tarmac and puts himself in front of the jet before it can take off. Police surround the jet and arrest Wagner. It just goes to show that Monk can't be fooled, no matter good your alibi is!