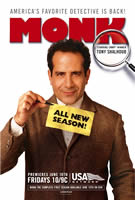 TV Info
---
Episode Premiere
August 05, 2005

Distributor
USA Cable Network

Genre
Drama, Comedy

Show Period
2002 - 2009

Production Company
Mandeville Films, ABC, NBC, UMS


Cast and Crew
---
Director
Andrei Belgrader
Screenwriter
Daniel Dratch
Main Cast
Additional Cast
Kathryn J. Taylor
Nick Hoffa
Daniel Roebuck
Bianca Chiminello
Synopsis
---
New York mob accountant Rudy Schick is in trouble. His partner Ben Gruber has skipped town with over $3 million in mafia money, and now hitman Al Nicoletto is looking to re-collect the cash. All Schick knows is that Gruber is hiding somewhere in California. Unfortunately, that information isn't good enough for Nicoletto, who kills Schick and then sets out on a frantic search for Ben Gruber and the money.
Meanwhile, Monk and Natalie are traveling to wine country to celebrate Monk and Trudy's anniversary. Every year, Monk goes to the same bed and breakfast where he and Trudy spent their honeymoon. After Monk and Natalie check in, Monk sits down to eat dinner alone, with an open seat reserved for Trudy. It's a touching moment - until Monk is interrupted by Larry Zwibell, a loquacious guest who rudely seats himself in Trudy's chair. After noticing that Monk is woozy after having taken just a sip of wine, Zwibell tells Monk to find him later for a great hangover cure. Zwibell then leaves to join several guests in a game of poker.
The next day, Monk is indeed hungover and seeks out Zwibell for that cure. Much to his surprise, Zwibell is gone, and nobody - not the poker players, not the hotel owner - has any recollection whatsoever of a Larry Zwibell. Even a picture Monk took of Zwibell is gone from the digital camera he used for the picture! One guest suggests that Monk imagined Zwibell in reaction to being lonely. Despite the mounting evidence that Zwibell never existed, Natalie stands by her boss.
As a defeated Monk and Natalie prepare to leave, they are greeted by Al Nicoletto, the hitman, who introduces himself as "Allen Gruber." Nicoletto shows them a picture of Larry Zwibell, claiming that Zwibell is really his brother, Ben Gruber. He tells them that Ben stole some money from a bank and fled to this bed and breakfast, and now Nicoletto is here to convince his brother to return the money. Monk agrees to help Nicoletto find Ben, but before long, Monk realizes that Nicoletto is not who he says he is.
Monk plans to find out more by getting Nicoletto drunk, while Monk surreptitiously drinks non-alcoholic wine. But the plan goes awry when Monk mistakenly drinks real wine instead, and soon enough, it's Monk who is drunk. Meanwhile, Natalie finds Nicoletto's real name on an airline ticket in his car, and immediately calls Captain Stottlemeyer. She tries to alert Monk, but by the time the drunken Monk understands what's going on, Nicoletto has pulled a gun on them.
A struggle ensues, and Monk hits Nicoletto over the head with a wine bottle. The cops arrive to secure the scene, and Monk offers an intoxicated summation of what happened: Ben Gruber, fleeing from the mob, checked in to the bed and breakfast as "Larry Zwibell." During the poker game, "Zwibell" went to his room to get more money. When "Zwibell" didn't return, the guests went to his room to check on him, only to discover that "Zwibell" had died of a heart attack. Noticing his cash, they decided to split the money and hide the body. If anyone asked, they would all say that they never met anyone named Larry Zwibell. It was a brilliant plan, except for one thing: they forgot to account for the brilliant mind of Adrian Monk!