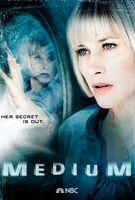 TV Info
---
Episode Premiere
May 11, 2009

Distributor
CBS, NBC

Genre
Drama

Show Period
2005 - 2011

Production Company
Picturemaker, Grammnet, Paramount Network


Cast and Crew
---
Director
Miguel Sandoval
Screenwriter
Davah Avena
Main Cast
Additional Cast
Synopsis
---
Allison awakes from her dream startled as she has pieced the murders of the innocent women whose eyes have been removed to Justin Lydecker, the son of her new boss at the Lydecker Industries. Allison then realizes that Mr. Lydecker hired her so she would be prevented from sharing her dreams about Justin with the DA and therefore protecting him.
Allison arrives at the DA's office early in the morning to share the information from her dream. As she pulls up, Caitlyn waits for her in the garage. Caitlyn lets Allison know that she herself had a vision that night, only hers was of Allison divulging the details of Justin's victims and his behavior to Devalos. She reminds Allison that Lydecker owns her and if she breaks her contract, Mr. Lydecker will sue her and her family for everything they have.
In a dream, Ariel stops by Sarah Ann's grave, the young lady that has been visiting her, to tell her that she wants to hear what she has to say, but that she is also going to the doctors to get medication, so she'll need to tell her soon if she wants Ariel's help. Allison goes back to Lydecker Industries with Caitlyn to speak to Mr. Lydecker about Justin and the murders.
Mr. Lydecker lets Allison know that he has taken Justin out of the country and has him under a doctor's care. He has started a course of therapy to cure him of his issues. Mr. Lydecker admits to paying off some of the women from Justin's past whom he had forced himself on, prior to the murders to keep his past under wraps. Mr. Lydecker also admits that he paid the detective, whom Scanlon shot and killed, as Justin's bodyguard and as part of the deal, the detective cleaned up after Justin, wiping all evidence away.
At home that night, Joe encourages Allison to speak to an attorney, as he can't find any loop holes in her contract with Lydecker Industries. That night, Allison has another vision. This time, Justin is in lockdown at a facility at an undisclosed location. Mr. Lydecker pays him a visit; things get physically rough between them and he forces Justin to take medication. However, when Mr. Lydecker leaves the room, Justin throws the medication in the toilet, not taking it.
Allison takes Ariel to her doctor's appointment the following morning while trying to get a hold of Caitlyn. After Ariel's appointment, Allison tracks down Caitlyn at the office during her 'serenity' time. She fills Caitlyn in on her vision about Justin not taking his medication. Caitlyn immediately tries to get a hold of Mr. Lydecker.
Allison gets home late that night after a long day at the office. She walks into the house where Joe is doing the dishes and fills him in on the details from her day. After speaking to Joe, Allison talks to Ariel about the medication she got at the doctors earlier that day. Ariel doesn't want to take the medication now. She is worried that if she takes the pills, she won't be able to hear what Sarah Ann needs to tell her despite having the PSAT's in a few days.
In another dream Allison sees Mr. Lydecker surprise Justin in the middle of night forcing him to take his medication. In the altercation, Justin gets violent and kills his father. Allison awakes startled. Caitlyn calls her in the middle of the night and without giving too many details, she asks Allison to join her in Mexico. She is sending a car to Allison's to take her to the airport immediately.
Allison hops a plane and lands in Mexico where is taken to the Lydecker compound and is greeted by Caitlyn. Caitlyn lets Allison know that the company line is that Mr. Lydecker was murdered to create distress in the western markets and cause concern over Lydecker Industries. Allison doesn't understand why Caitlyn is protecting Justin or the company. He's a murderer.
Back at school, Ariel tries to concentrate on her school work but hears voices. She sees her substitute teacher in a vision speaking to what appears to be a boyfriend. They are arguing and he refuses to leave. She was privately tutoring the girl Sarah Ann that drowned in a car crash. And after attending the funeral, she is at her lowest and asks to be left alone. Ariel approaches the teacher at the end of class, but doesn't know how to tell her what she knows, so she runs out of the classroom.
Allison breaks her silence and pays Devalos a visit at the courthouse. She fills him in on everything that happened in her visions and in Mexico. At home later that night, Allison and Joe watch a press conference with Caitlyn about the murder of Mr. Lydecker and the current state of Lydecker Industries. After, they both agree that Allison must meet with an attorney to discuss her options with the Lydecker contract.
That night, Ariel fills Allison in on her vision from earlier in the day about her substitute teacher and the argument she had with her boyfriend. Even though Ariel has her new prescription available to her, she decides not to use it and hope she can take the PSAT's without interruption despite her recent visions.
In a dream later that night, Allison sees Caitlyn dream of Mr. Lydecker's death before Allison even told her that Justin wasn't taking his medication. Allison wakes Joe to tell him Caitlyn knew. The next day, Allison waits for Caitlyn in her office to confront her.
Caitlyn tells Allison that she actually has no idea where Justin is and that she was hoping Allison would have a vision that would help them. Before Allison leaves her office, Caitlyn reminds Allison of her contract with Lydecker.
Ariel has a vision during her PSAT test about the teacher. The boyfriend went to her apartment and found her murdered with her eyes removed. Ariel screamed in the middle of her test and was taken to the nurse's office where Allison came to meet her. Ariel tells Allison that in her vision the teachers eyes were removed and that the murder was going to happen on Wednesday night around 10pm.
While still at the office, Caitlyn turns on the television. A breaking news story of Justin Lydecker's arrest is playing. Just as she was watching the news story, Allison and Devalos enter her office. There, Devalos fills her in that Justin implicated her in the crimes. He told the DA that Caitlyn had discussed the murder of Mr. Lydecker with Justin long before it happened, in fact giving him the suggestion that Mexico would be an ideal location to do so. After Devalos suggests Caitlyn call her attorney, she tells Allison her contract is terminated. Allison thanks her.