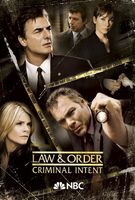 TV Info
---
Episode Premiere
June 22, 2008

Distributor
NBC, USA Network

Genre
Drama, Crime

Show Period
2001 - 2011

Production Company
NBC Universal, Studios USA TV, Universal Network


Cast and Crew
---
Director
Michael Smith
Screenwriter
Diana Son, Marygrace O'Shea, Warren Leight, Charlie Rubin
Main Cast
Additional Cast
Synopsis
---
Kathy Jarrow is a famous crime writer with a problem: her young husband Woody is missing. At a banquet in her honor, Kathy is distracted by her domestic problems and faints.
Kathy has hooks in the NYPD. She is a long time friend of the department and of Captain Ross. An ex-cop herself, Kathy knows the drill, and Ross assigns Goren and Eames to investigate her missing persons claim. When the detectives meet Kathy, she insists that Woody is missing, and hasn't walked out on her. Tracking Woody's movements via GPS, Goren and Eames believe his erratic movements throughout the city on the night of his disappearance are consistent with a carjacking. But when the detectives backtrack and examine his movements more closely, they begin to suspect Woody may have had another lover. A quick check at the gym confirms their suspicions: Woody was running off with his beautiful young girlfriend, Avery, and they staged the carjacking. But when Woody and Avery fail to show up for a family function, Avery's parents issue a missing persons report. Avery ran out on her own husband Roy, a volatile man with a history of violence, and now, a motive for revenge.
Goren and Eames press Roy, but he's got an alibi. The night Woody and Avery disappeared, he was with his own mistress. The detectives have a hard time believing Roy, but in fact he was with his woman-on-the-side, Trina. The case turns when a family member receives a text from Avery that she and Woody had eloped.
The text message is tracked to JFK airport, where the cops find the cell phone in a trash bin. Goren is surprised to find Woody's Range Rover nearby with traces of blood on a bracelet worn by Avery. Things are not looking good for Woody. When the detectives learn that he has changed his name, bought a one way ticket to Mexico, and stolen money from his wife, Kathy, Goren and Eames think they have their killer. But how could Kathy, an ex-cop and clever crime writer, been duped by this young man? And why is Ross blinded by Kathy's continued profession of innocence?
Suspicious of Kathy, Goren and Eames dig much deeper, exhuming the body of her ex-husband. When it becomes clear that she killed her ex, Ross must turn on his good friend and get her to admit to the killings. Though Kathy may have been able to spin a good crime yarn, her hubris leads to her downfall, and she is unable to outwit Goren and Eames.