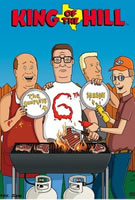 TV Info
---
Episode Premiere
March 14, 2004

Distributor
Fox TV

Genre
Animation, Comedy

Show Period
1997 - 2009

Production Company
Deedle-Dee, Judgmental, 3 Art, Film Roman, Fox TV


Cast and Crew
---
Director
Anthony Lioi
Screenwriter
Jonathan Collier
Main Cast
Mike Judge
Kathy Najimy
Pamela Adlon as Bobby Hill (voice)
Brittany Murphy as Luanne Platter/Joseph Gribble (Age 12)
Johnny Hardwick
Stephen Root
Toby Huss
Additional Cast
Synopsis
---
The day begins as Hank, Bill, Dale and Boomhauer make a trip to the local Arlen Speedway and are excited to meet the fastest funny-car race driver ever...John Force. Unfortunately, John's force is forceless now that he is suffering from a kidney disease that lands him in the hospital.
Hank, Bill and Boomhauer are willing to go to heroic lengths to save their favorite speedster, although we cannot say the same for Dale who is suffering from another incurable disease...hospital paranoia. While Hank, Bill and Dale donate blood to put the force back in John, Dale resists the prick, but blood is drawn anyway. To his surprise (and dissatisfaction) his blood type is a perfect match to John Force's, making him the ideal kidney donor. While Dale resists giving away his precious organ, Hank encourages him to be a hero until he finally agrees. Dale gives Hank the special privilege of being Dale Gribble while he is under the knife.
However, big shoes bring big responsibilities and making decisions for Dale means making them the Dale way. So when Force is cured, Dale's kidney is up for grabs. Hank must make the decision to re-implant it back in Dale or give it to little Timmy Croston who will die without it. Hank cracks under pressure and gives the kidney away knowing that Dale would never commit himself to such profitless acts of charity.
When Dale regains consciousness Dale's hospital paranoia becomes real as his organs are tossed around from patient to patient. After stealing all of Timmy's toys, Dale feels he has been adequately reimbursed for his body part. In the end, Timmy is saved, Dale thinks he is a hero, and Hank can return to his good, old, non-paranoid self.