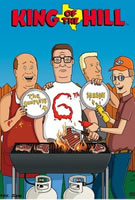 TV Info
---
Episode Premiere
May 12, 2002

Distributor
Fox TV

Genre
Animation, Comedy

Show Period
1997 - 2009

Production Company
Deedle-Dee, Judgmental, 3 Art, Film Roman, Fox TV


Cast and Crew
---
Director
Allan Jacobsen, Anthony Lioi
Screenwriter
Kit Boss, Etan Cohen
Main Cast
Mike Judge
Kathy Najimy
Pamela Adlon as Bobby Hill (voice)
Brittany Murphy as Luanne Platter/Joseph Gribble (Age 12)
Johnny Hardwick
Stephen Root
Toby Huss
Additional Cast
David Carradine
Seiko Matsuda
James Sie
Synopsis
---
While watching a sentimental TV special on WWII, Topsy quietly dies on Cotton. To deal with Topsy's death and the anxiety he feels from post-war stress, Hank takes his dad to visit John Redcorn's seat lodge. After envisioning all the Japanese men he killed in the war, Cotton somehow gains a conscience and decides to right the wrong by travelling to Japan to apologize to the men's families.
Peggy lands a free trip for the family to Japan by selling a travel story to the Arlen Bystander on Cotton's apology. When Bobby finds Cotton looking at a wallet photo of a Japanese woman, Cotton tells him the woman is the widow of a man he killed. Hank, who was initially skeptical of Cotton's newfound sensitivity, now believes that Cotton has turned an emotional corner.
Hank decides that it's important that he and Peggy and Bobby accompany Cotton on his mission, even if it means going to Japan. After the Hills arrive in Japan, Cotton slips and reveals that the widow in the photo was not a widow, but Cotton's post-war girlfriend, Michiko. Hank, furious about the deception, refuses to talk to Cotton, even though Peggy points out that the situation is actually quite romantic: after killing all the Japanese people, he found the courage to love one. Somewhat touched, Hank takes Peggy and Bobby to Michiko's apartment to find Cotton. When the door swings open, inside stands a Japanese man who looks a lot like Hank - it's his half-brother!
Cotton, who is dumbfounded that he fathered another child, names his newfound son, Japanese Hank. Japanese Hank tells the Hills that his mother is out but invites them to dinner. At dinner, Cotton is informed that the Emperor has agreed to attend the reconciliation ceremony between the Japanese and Cotton and the other American vets. Cotton makes a heartfelt toast to forgiveness and the unification of his diverse family. But a drunk Japanese Hank blurts out how much he hates Cotton for abandoning him, especially in a society that frowns on mixed children.
Incensed, Cotton tells everyone that he recalls why he went to war in the first place and runs away. Hank, fearing Cotton will do something at the ceremony that will cause an international incident, persuades a hostile Japanese Hank to help him find their father. They find Cotton at the reconciliation and implore him to behave. The half-brothers express their admiration for each other and Cotton is touched when Japanese Hank calls him "father." Cotton is so moved, he decides not to hawk a loogie on the Emperor, as he originally intended.