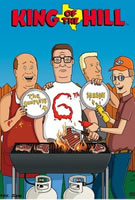 TV Info
---
Episode Premiere
February 27, 2000

Distributor
Fox TV

Genre
Animation, Comedy

Show Period
1997 - 2009

Production Company
Deedle-Dee, Judgmental, 3 Art, Film Roman, Fox TV


Cast and Crew
---
Director
Klay Hall
Screenwriter
Greg Daniels, Mike Judge
Main Cast
Mike Judge
Kathy Najimy
Pamela Adlon as Bobby Hill (voice)
Brittany Murphy as Luanne Platter/Joseph Gribble (Age 12)
Johnny Hardwick
Stephen Root
Toby Huss
Additional Cast
Synopsis
---
Frustrated with Hank's rules, Luanne moves out
Late one night, Hank and Peggy are "getting jiggy" when Luanne tries to sneak into the master bathroom, killing the mood and infuriating Hank. He lectures Luanne about the rules, including no hot water after 11 PM and no entering the master bedroom, ever. Luanne thinks he's overreacting and that his rules are ridiculous.
The next day, Bill, Dale and Boomhauer convince Hank to chip in with them to rent a vacant house on the block. Their plan is to make it their clubhouse, complete with secret knock and clever codenames. After getting Hank to agree, they break the "lock box" on the rental and start making plans for a clubhouse remodel. Hank decides that if he starts charging Luanne rent, he can put that money towards his share of the clubhouse. He's shocked to find out that Luanne has taken matters into her own hands, and has rented the vacant house with some fellow students.
Luanne loves the freedom of her own place, but soon realizes that her roommates are not very reliable. They eat her food, talk on the phone long distance, don't clean up and mysteriously don't have money when it comes time to pay the bills. But Luanne refuses to lean on Hank and Peggy for help. She'd rather starve than admit she's in trouble. Meanwhile, Hank has converted Luanne's room back into his private sanctuary. Unfortunately, the guys have decided that Hank's den is now their "Plan B" clubhouse and are constantly in there!
Hank, Peggy and Bobby surprise Luanne by bringing over dinner one night. She returns home from a double shift, frazzled and frustrated. It only takes one comment from her slacker roommates to set her off. After she finishes a huge lecture about respecting the rules, she is mortified that she's become Hank! Later, Hank tries to give her a pep talk, but Luanne figures out her own solution. She pays every bill then cancels all the services, making her roommates pay up or suffer. Hank finally realizes that Luanne is becoming quite the grown-up.