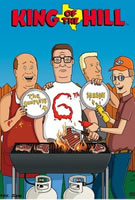 TV Info
---
Episode Premiere
February 20, 2000

Distributor
Fox TV

Genre
Animation, Comedy

Show Period
1997 - 2009

Production Company
Deedle-Dee, Judgmental, 3 Art, Film Roman, Fox TV


Cast and Crew
---
Director
Anthony Lioi
Screenwriter
Jonathan Aibel, Glenn Berger
Main Cast
Mike Judge
Kathy Najimy
Pamela Adlon as Bobby Hill (voice)
Brittany Murphy as Luanne Platter/Joseph Gribble (Age 12)
Johnny Hardwick
Stephen Root
Toby Huss
Additional Cast
Synopsis
---
Bobby accidentally sees Luanne naked and Boomhauer accidentally gets admitted to a mental hospital
After a fun-filled day at the river, Bobby heads into the unisex bathroom and accidentally walks in on a buck-naked Luanne. Meanwhile, Boomhauer falls asleep in his inner tube and drifts downstream, all the way into the Dallas sewer system.
While Bobby is totally traumatized from seeing Luanne in all her glory, his friend Joseph is jealous--and wants a peek for himself! Joseph starts hanging around the Hill house, waiting for the right opportunity. When Luanne heads for her nightly shower, he goes outside to peep. Bobby chases after him and tries to wrestle away Joseph's binoculars. They happen to be standing in front of Connie's bedroom window, and she catches them red-handed. But she thinks they were peeping at her! For revenge, Connie goes out with a Laotian boy who her parents want her to marry, but has a miserable time. Later, when Bobby explains what happened, Connie is disappointed that they didn't want to see her naked. Bobby reassures her that he'd like nothing better. Bobby takes off his shirt and just as Connie is about to do the same, her parents walk in! Kahn forbids Connie to see Bobby and starts building a six-foot fence between their houses.
Meanwhile, in the big city, a sunburnt and stinky Boomhauer is found wandering the streets in his leopard-print speedo. Thrown into a state hospital for "observation," he uses his one phone call to notify Dale. Dale goes on a reconnaissance mission and winds up trapped inside with Boomhauer. Not wanting Hank to find out, they turn to Bill. But once Bill gets a taste of group therapy, he has no plans to leave. Finally, the call goes out to Hank, who rescues them all--except for Bill, who is making real progress and decides to stay.
Back at home, Hank discovers Bobby and Connie in a secret rendezvous atop the massive fence. Hank gives his son a hand with the ladder, and lets young love run its course.