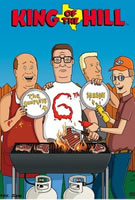 TV Info
---
Episode Premiere
February 13, 2000

Distributor
Fox TV

Genre
Animation, Comedy

Show Period
1997 - 2009

Production Company
Deedle-Dee, Judgmental, 3 Art, Film Roman, Fox TV


Cast and Crew
---
Director
Adam Kuhlman
Screenwriter
Alan R. Cohen, Greg Daniels
Main Cast
Mike Judge
Kathy Najimy
Pamela Adlon as Bobby Hill (voice)
Brittany Murphy as Luanne Platter/Joseph Gribble (Age 12)
Johnny Hardwick
Stephen Root
Toby Huss
Additional Cast
Synopsis
---
All signs point to one suspect in Debbie's murder...Hank R. Hill
Hank waits for Debbie in her apartment, unaware that her dead body was just discovered across the street behind Sugarfoot's barbecue restaurant. Antsy, he asks Debbie's roommate, a guy named Gayle, if he can use Gayle's cigarette to light his own, because his own lighter isn't working. Hank takes a few hits of Gayle's "cigarette" to fire up the tip and realizes it's marijuana. In a panic, he rushes to the bathroom, and unknowingly drops his monogrammed lighter.
Back at Sugarfoot's, police inspect the murder weapon. It's a shotgun inscribed with the words "Miz Liz"--the same shotgun Buck Strickland kept at Debbie's apartment. The next day, the sheriff tells Hank that due to his relationships with both Liz Strickland and Debbie, he has become their prime suspect!
Hank tries to assure Peggy that there were no relationships with Liz or Debbie. But secretly Hank starts to think that while he was high on drugs, he may have blacked out and committed murder! Things turn from bad to worse after Mr. Strickland plants evidence to frame Hank, and even supplies a taped confession that he tricked Hank into giving. The confession, along with Hank's lighter found in the victim's apartment, seem to seal Hank's fate. Luckily, Gayle tells the police that he and Hank were smoking pot at the time of Debbie's murder. When Hank's asked to confirm the story, however, he's too ashamed to admit he was smoking pot, so Gayle is arrested.
At a celebratory dinner, Hank can't stand the guilt and announces to everyone--including the sheriff and a Texas Ranger--that he was with Gayle, which means they're both innocent (except for the pot smoking). There's a huge outburst and everybody starts pointing the finger. Finally, the Texas Ranger explains what really happened. Debbie saw the Stricklands arrive together at Sugarfoot's and got jealous, so she planned to shoot Buck. She grabbed Buck's shotgun and hid in the dumpster outside the restaurant. After a brief fast-food run, she tried to climb back into the dumpster, but couldn't juggle the food and the gun, consequently shooting herself. Case closed!