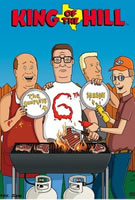 TV Info
---
Episode Premiere
December 19, 1999

Distributor
Fox TV

Genre
Animation, Comedy

Show Period
1997 - 2009

Production Company
Deedle-Dee, Judgmental, 3 Art, Film Roman, Fox TV


Cast and Crew
---
Director
Tricia Garcia
Screenwriter
Greg Daniels, Johnny Hardwick
Main Cast
Mike Judge
Kathy Najimy
Pamela Adlon as Bobby Hill (voice)
Brittany Murphy as Luanne Platter/Joseph Gribble (Age 12)
Johnny Hardwick
Stephen Root
Toby Huss
Additional Cast
Synopsis
---
Hank gets caught up in Y2K hysteria, and almost ruins Christmas.
Boomhauer expects the Apocalypse. Dale is secretly hoarding supplies. Even Chappy, the Christmas tree lot owner, has trimmed his life to the bare necessities. Nonetheless, Hank and Peggy believe that Millennium Mayhem is just a myth--until Peggy discovers that her computer is not Y2K compatible.
Now totally paranoid, Peggy goes on a mission to print every file before New Year's Eve. Hank decides to buy her a new computer for Christmas and enlists Dale's help. Unfortunately, computers are down at the computer store, and Hank can't buy anything. He's amazed at how paranoid people have become and he's happy that Dale is so calm. Little does Hank know that Dale's basement is packed to the rafters with supplies, including two large tanks of Dale's favorite soft drink, Dew Mountain.
Days before Christmas, Hank is faced with a propane crisis. The latest shipment won't arrive in time for the holidays and the shortage has sent customers into a frenzy. Hank takes the last three tanks for himself, knowing that if the propane industry can't keep up, the worst is yet to come. Meanwhile, Dale's Dew tanks have exploded, ruining all his supplies. Dale, Hank and Chappy team up to guarantee their Y2K survival. On Christmas morning, Peggy receives not a brand new computer, but an old grandfather clock--a gift Hank assures her will be much more practical in 2000. Peggy banishes him and the clock to the garage. While varnishing the clock, Hank passes out from the fumes and has a prophetic dream. In it, legendary Dallas Cowboys coach Tom Landry assures Hank that everything will be all right. When he wakes up, Hank is a new man. One who orders his wife a new computer and says to hell with the millennium!