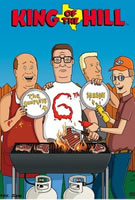 TV Info
---
Episode Premiere
May 18, 1999

Distributor
Fox TV

Genre
Animation, Comedy

Show Period
1997 - 2009

Production Company
Deedle-Dee, Judgmental, 3 Art, Film Roman, Fox TV


Cast and Crew
---
Director
Adam Kuhlman
Screenwriter
Greg Daniels, Norm Hiscock
Main Cast
Mike Judge
Kathy Najimy
Pamela Adlon as Bobby Hill (voice)
Brittany Murphy as Luanne Platter/Joseph Gribble (Age 12)
Johnny Hardwick
Stephen Root
Toby Huss
Additional Cast
Synopsis
---
Hank and Peggy celebrate their twentieth wedding anniversary by going skydiving; Bobby drives Didi to the hospital when she goes into labor.
While standing in the common alley, Hank reminds his buddies about his upcoming twentieth wedding anniversary barbecue. He mentions that Luanne is scheduled to go camping with friends and Bobby is staying with his father and Didi. As a result, he and Peggy will have the entire weekend to themselves. As the party gets under way, and guests begin arriving, Luanne receives a phone call from a friend. It turns out that her camping trip has been cancelled. Luanne asks Bobby if she can accompany him to Cotton's place, but Bobby vetoes the idea, as he expects this is the last chance his grandfather will have to spoil him before the baby is born. Later, Hank subjects the party-goers to a slide show documenting the history of his marriage, boring everyone in attendance. Later, Luanne climbs into a taxi cab, pretending to embark on her weekend journey. But in reality, she has no idea where to spend her time. Bobby also sets out on the drive with Cotton and Didi, but to his great disappointment, Cotton expects him to fill in for his pregnant wife and perform her chores. After the anniversary party ends, Peggy begins to cry.
Still crying, Peggy laments that she and Hank are now old. As she watched the slide show, she realized that the young married couple (she and Hank) were unrecognizable. Hank tells her that they did themselves a favor when they abandoned all their dreams. Later that night, with no where else to go, Luanne sneaks back into the house and hides in a closet. Hank brings Peggy to the McMaynerbury hotel for a romantic dinner. Peggy orders a Singapore Sling, but Hank reminds her that if she drinks, he will have to forgo his beer. Peggy changes the order to a water and Hank has his beer. When Peggy and Hank return home, they spend the evening drinking. Realizing she will never have a second child, Peggy begins tossing away all of Bobby's baby things. She then climbs into the trash can. Hank soon follows. The next morning, the pair awaken with a hangover. They set off to get some breakfast, but along the way, decide to cure their hangover by drinking some more beer. As Hank and Peggy sit in the bed of the truck, looking up at the clouds, Peggy notices some parachutists. Peggy talks Hank into going skydiving. Meanwhile, Didi's water breaks. Bobby phones Cotton at a bar. Cotton tells Bobby he will meet his wife at the hospital, forgetting that Didi cannot drive. Left with little choice, Bobby drives Didi to the hospital. As Didi is unfamiliar with the hospital's location, Bobby makes the drive to Arlen Hospital, some two hours away.
Bobby manages to get Didi to the hospital, and soon realizes that he must be at her side as she goes into labor. Meanwhile, Hank jumps from the plane and successfully parachutes to the ground, thoroughly enjoying the entire experience. But Peggy has second thoughts and remains aboard the plane. Hank radios the plane and tells Peggy about the wonderful experience. He encourages her to make the jump. A short time later, Luanne tells Hank that Didi is giving birth at the hospital. Hank relays word to his wife. At the last moment, Peggy changes her mind and decides to make the jump. But as she plummets to Earth, the ripcord comes off in her hand. She pulls the emergency ripcord, but it, too, breaks. Hank watches helplessly as his wife plummets to the ground.