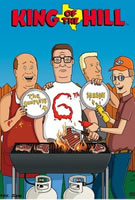 TV Info
---
Episode Premiere
March 16, 1999

Distributor
Fox TV

Genre
Animation, Comedy

Show Period
1997 - 2009

Production Company
Deedle-Dee, Judgmental, 3 Art, Film Roman, Fox TV


Cast and Crew
---
Director
Gary McCarver
Screenwriter
Jonathan Collier, Greg Daniels
Main Cast
Mike Judge
Kathy Najimy
Pamela Adlon as Bobby Hill (voice)
Brittany Murphy as Luanne Platter/Joseph Gribble (Age 12)
Johnny Hardwick
Stephen Root
Toby Huss
Additional Cast
Synopsis
---
Peggy assists a magician with a trick, then infuriates Hank by refusing to divulge the secret behind the magic.
As Hank sips beer in the alley, he worries about his mother, who is traveling to see a museum of miniatures in Port Aransas. When the van finally arrives, Tilly explains that she and her friends, Delia, Maureen and Lillian, got behind schedule during their visit to a pancake house. Hank grows concerned. He volunteers to drive the women the rest of the way, this despite his long-time hatred of all things miniature. Hank tells Peggy that his mother only expressed interest in miniatures when "she was heading into a funk." As the group makes its way through the exhibits, Hank reacts with great displeasure when he hears the name "Lyle Neff," who is hard at work on one of his latest miniatures. When the ladies retire early for the evening, Hank hangs out at the motel bar and enjoys a beer. He befriends two college-aged men, Chad and Randy. Unbeknownst to Hank, the entire town is about to be overrun with students eager to celebrate Spring Break. Meanwhile, Bill decides to "put the moves" on Peggy now that Hank is out of town.
On their journey to the miniatures museum the next day, Hank and the women encounter throngs of college kids. While visiting the museum gift shop, Tilly falls in love with a glass unicorn. Hank grows more concerned for his mother's mental well-being. Later, the group enters a tea house, which has been completely transformed to accommodate the younger crowd. Hank watches in horror as a DJ stages a wet T-shirt contest. Afterwards, Hank hails Chad and Randy when he spots them in a crowd. The boys respond by hurling water balloons. A short time later, Hank and the women pack their belongings, climb into the van and begin their journey towards the ferry. Suddenly, Tilly realizes she left her unicorn back at the motel. When Hank informs her that returning to the motel will mean missing the ferry, a verbal altercation ensues. Tilly exits the van and walks off into a crowd. Meanwhile, Bill invites Peggy to his home for a barbecue, but Peggy does not take him up on his offer.
Hank loses sight of Tilly and she disappears into the crowd. He eventually ends up back at the museum, where he strikes up a conversation with Lyle Neff. Lyle tells him that women are often sad and lonely, and that miniatures are sometimes the only things that prevent them from losing their sanity. Hank recalls his youth, when his parents were in the process of breaking up, and how his mother embraced the miniatures. He sees truth in Lyle's words. When he finally catches up to his mother, Hank gives her a miniature of Los Angeles International Airport. Tilly is overjoyed. Meanwhile, Peggy, Luanne and Bobby sit contentedly on a bench and watch an Arlen ball game. Bill sits down next to Peggy and places his arm around her. Peggy responds by striking him with her large foam finger. Bill loses his balance and falls from the bleachers. Meanwhile, Hank and his mother return to the van. Lillian exits the vehicle and makes her way towards a stage. Hank grabs hold of a Super Squirter and uses bursts of water to break through the line of drunken revelers. Hank and the women then head for the ferry. Unfortunately, a giant inflated beer can floats towards them, causing Hank to swerve. The van enters the exit lane of a parking lot, where its tires are shredded by spikes. At first, Hank refuses to drive the vehicle on its rims. But when Adam Sandler descends from the sky in a helicopter singing Sloppy Joe, Hank floors the accelerator and reaches the ferry just in time.