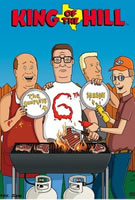 TV Info
---
Episode Premiere
February 23, 1999

Distributor
Fox TV

Genre
Animation, Comedy

Show Period
1997 - 2009

Production Company
Deedle-Dee, Judgmental, 3 Art, Film Roman, Fox TV


Cast and Crew
---
Director
Gary McCarver
Screenwriter
Greg Daniels, Mike Judge
Main Cast
Mike Judge
Kathy Najimy
Pamela Adlon as Bobby Hill (voice)
Brittany Murphy as Luanne Platter/Joseph Gribble (Age 12)
Johnny Hardwick
Stephen Root
Toby Huss
Additional Cast
Synopsis
---
Hank suppresses his feelings after he inadvertently arouses and is attacked by a dolphin.
Hank loans Luanne sixty dollars, hoping it will keep her afloat monetarily--and stop her from borrowing money in smaller quantities--for some time to come. The next morning, Hank hangs out with a group of regulars at the local hardware store. One of the customers announces that there is a job opening at the La Grunta Hotel. The establishment is looking to fill the position of golf course drink girl. When Hank returns home, he discovers Luanne selling her possessions on the curb. Luanne explains that she spent every dollar Hank gave her the previous evening. Hank convinces her to apply for the drink girl position at the hotel. Luanne lands the job, and soon discovers that lascivious, drunken golfers tip young females rather generously. So pleased is Luanne with her new job that she determines to buy her uncle a thank-you gift. She enters the La Grunta gift shop and speaks with the cashier, who recommends a gift certificate for a round of golf. That evening, Luanne presents Hank with a large, gift-wrapped box. Inside is a card for Dolphin Encounter, which allows the recipient to swim in the hotel pool with a live dolphin. Hank isn't sure what to make of the gift, and hopes it can be exchanged for a round of golf. Luanne bursts into tears and runs from the room. Hank smooths things over with Luanne and promises he will give Dolphin Encounter a try. Supervised by a trainer, Hank climbs into the swimming pool occupied by the dolphin. At first, Hank enjoys his encounter with the playful creature. He strokes its white belly, which blushes pink. Shortly thereafter, the creature attacks Hank, and then drags him underwater.
Hank is pulled from the pool. The hotel director explains that Hank's display of affection aroused the marine creature, and it attempted to become physically intimate with him. Hank is horrified. The hotel management bribes Hank with free merchandise in hopes of preventing a lawsuit. Shortly thereafter, Hank tells Luanne not to discuss the incident with anyone. But Hank soon discovers that keeping everything internalized comes with a price. He cringes when bedsprings make a sound similar to the dolphin's squeal, and reacts with horror when he reels in a live fish during a boating trip. Meanwhile, at the hotel, Luanne accepts a "putting lesson" from an overly friendly golfer, and soon finds herself being groped. At first, she keeps the incident to herself. Later, however, she tells Hank and Bobby what happened. Luanne tells Hank that if she can put the incident behind her, then so can he.
The next morning, however, Luanne dresses in long pants and a baggy suit so as not to encourage more unwanted advances. Eventually, Peggy senses something is wrong and confronts her husband. Hank describes the incident with the dolphin, and by doing so begins to feel much better. In fact, Hank's spirits rise so much that he also describes the incident to his drinking pals. At first, everyone laughs. But then Bill breaks down, sobbing. He confesses that he, too, was targeted by the dolphin. But the hotel "bought him off" with free trinkets. Hank gathers the merchandise he was given and returns to the hotel. He dumps the items by the pool, refusing to take a payoff. As Hank storms off, he sees a golfer stuffing money down Luanne's cleavage. Outraged, Hank lifts the golfer in his arms and dumps him into the pool, where he is attacked by an aroused dolphin.